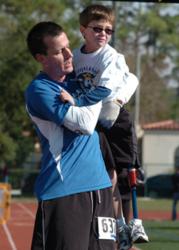 I have been blessed with the ability to run and with that blessing also comes a call to action. It was a natural fit to combine my love of running with the Challenged Athletes Foundation.
(PRWEB) May 25, 2011
Elite athletes, ultra runners, yogis, surfers, football players, golfers and tri athletes will come together in Jacksonville for two days of events, June 3 and 4, featuring The Challenged Athlete's Foundation and the Life Rolls On Foundation 'They Will Surf Again' Event. As supporters of the event, Phix will be onsite providing samples of our all-natural, healthy energy drinks for the participating athletes and volunteers.
On Friday, June 3, from 7-9:30 p.m., the event will feature 50 minutes of cycling and 50 minutes of power yoga. The session fee, $30, will go directly to the CAF. Additionally, this event will be a send off celebration for Phix-fueled, ultra runner Chris Roman who will be running the world's toughest foot race—the Badwater Ultramarathon on July 11-13. Chris, as well as other ultra marathoners, rely on Phix Energy to help them stay hydrated through the 135-mile race across death valley! The June 4th event, They Will Surf Again, will be held from 9 a.m-2 p.m. Volunteers will be paired with individuals with spinal cord injuries for a day of surfing, inspiration and camaraderie.
Phix Energy is a proud supporter of The Challenged Athletes Foundation. Phix healthy energy drinks are an herbal energy drink powder blending green tea antioxidants, energy-restoring NADH, and yerba maté for enhanced vigor. Phix healthy energy drink gives you an immediate lift, but unlike other energy drink products, there are no spikes, jitters, or crashes. Phix Energy is smooth and sustained and designed to help improve your immune system and energy levels day in and day out—whether you're cycling, running or surfing!
###