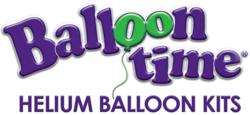 "The 'Put A Face on Fun' contest is all about highlighting the special moments in life that make us smile, and Caiden's expression in her winning photo is infectious."
Columbus, OH (PRWEB) May 25, 2011
Five-year-old Caiden White's patriotic grin stood out from the crowd, beating out more than 1,500 entries nationwide to become this year's Balloon Time® "Put A Face On Fun" contest winner. As a reward, Caiden participated in a professional photo shoot and will be featured on Balloon Time's packaging over the next year, and she will head to sea on a Disney Cruise Line® vacation with her family.
"We're all really shocked and excited about Caiden winning the contest, as are our friends and family who voted for Caiden's photo online," said Caiden's mother, Pamela White, who snapped the winning photo while watching the fireworks display at their local church. "Caiden is really outgoing and always smiling. It wasn't tough to find a photo of her having fun!"
Caiden took home the grand-prize spot, but 50 first-prize winners also received a Balloon Time Helium Balloon Kit.
"The 'Put A Face on Fun' contest is all about highlighting the special moments in life that make us smile, and Caiden's expression in her winning photo is infectious," said Janna Stanford, Balloon Time Marketing Coordinator. "There's no better way to spread Caiden's joy than including her photo on our packaging for all to see, and sending her family on a vacation to capture even more happy memories."
Parents nationwide were encouraged to enter their children ages 3-11 in the contest at PutAFaceOnFun.com. Each photograph was judged by an independent panel of judges based on the following criteria: smile, age appropriateness, expression of fun and suitability for appearing on packaging. New to this year's contest, parents and friends of participants were able to get in on the fun, as a portion of the final tally was determined by America's vote.
To be notified of the details of the next "Put A Face On Fun" contest, parents can register for the Celebrations e-newsletter at BalloonTime.com, or follow Balloon Time on Twitter or Facebook.
Balloon Time offers a family of portable helium cylinders and balloons, including a kit with helium-filled tank, latex balloons and ribbon in one convenient, portable box, as well as the Create-A-Party helium cylinders and themed balloons sold separately. Balloon Time products can be found at mass merchant, party goods and grocery stores nationwide. For more information on Balloon Time Helium Balloon Kits or to find a retailer near you, visit BalloonTime.com. For a list of official contest rules, visit PutAFaceOnFun.com.
About Balloon Time
Balloon Time is the leading brand of consumer helium balloon kits in North America. Balloon Time's family of products includes Balloon Time Standard Helium Balloon Kit, Balloon Time Jumbo Helium Balloon Kit, Balloon Time Party Create-A-Face Sticker Kit and Balloon Time Create a Party products, including standard and jumbo portable helium cylinders and themed balloon packs sold separately. Balloon Time products are available at a variety of retailers worldwide. Visit BalloonTime.com to learn more about Balloon Time and its family of products or to locate a retailer, or connect with Balloon Time on Twitter and Facebook.
About Worthington Cylinders
Worthington Cylinders is the leading global supplier of pressure cylinders, providing consumers the power needed for grilling, party planning, camping and home repair. The company's Worthington Pro Grade and Balloon Time products are known for their affordable quality, and are available at retailers worldwide. Commercial products include the most complete line of pressure cylinders in the industry, including storage of liquefied petroleum, refrigerant, oxygen and industrial gas gases, alternative fuel storage and specialty products. Worthington Cylinders is a Worthington Industries company, a leading diversified metals manufacturing company with 2010 fiscal year sales of approximately $1.9 billion. For more information, visit WorthingtonCylinders.com.
###