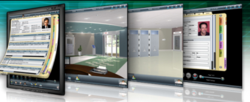 San Antonio, TX (PRWEB) May 24, 2011
HealthTec Trilogy is the newest software product to be developed by HealthTec Software, which has been headquartered in San Antonio Texas since 1999. HealthTec Trilogy will join a family of products that include FoxMed, FoxDent, HealthTec-PM, and HealthTec-Visual Scheduler. Over three years in development, HealthTec Trilogy includes strong functionality in the areas of Scheduling, Practice Management/Revenue Cycle Management and Electronic Health Records.
HealthTec has used over twenty years of software development experience and a great deal of user input to develop a powerful graphical solution that can adapt technology to the workflow of each individual practice, or even individual physicians within a practice. Practices can control their own workflow by use of HealthTec Trilogy's unique ability to accept information using any combination of custom forms, templates, handwriting, dictation and typing. A healthcare provider may use all or some of these tools to create the most efficient workflow for their practice.
As a Certified EHR system, physicians that demonstrate meaningful use of HealthTec Trilogy can now qualify to receive HITECH Federal Stimulus payments under the Medicare or Medicaid programs with amounts ranging from $44,000 to $64,000.
HealthTec Software expects to begin delivering Trilogy to new customers this summer. Interest has been very strong for a system that has redefined the capabilities of Electronic Health Record Systems.
For more information on HealthTec Software, or HealthTec Trilogy, please contact the Director of Sales, Mike Kripner, at 210-545-1010, Extension 2212. Additional information is available at http://www.healthtec-software.com.
About HealthTec Software
HealthTec Software, Inc. is a leading supplier of complete, reasonably priced software systems for medical and dental practices. These systems offer easy to use, yet sophisticated features such as Electronic Health Records, patient portal, real-time financial analysis and claims tracking, seamless electronic claims solutions, complete patient and resource scheduling, efficient transaction posting and much more.
HealthTec Trilogy is 2011/2012 compliant and has been certified by an ONC–ATCB in accordance with the applicable certification criteria adopted by the Secretary of Health and Human Services. This certification does not represent an endorsement by the U.S. Department of Health and Human Services or guarantee the receipt of incentive payments.
###