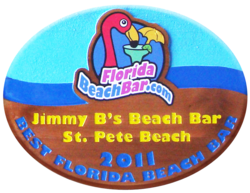 "Picking the best Florida beach bar is a tough task. Each beach bar has something special to offer," said Chris Sancin, Co-founder of FloridaBeachBar.com
Sarasota, FL (PRWEB) May 24, 2011
FloridaBeachBar.com, the leading web site for Florida Beach Bars, announced today their list of the Top 10 Beach Bars in Florida. Visitors to the site were asked to pick their favorite from a list of over 220 bars. Top vote getters were rated against Florida Beach Bar's criteria for a top beach bar; live entertainment, proximity to the beach, and good food. Ratings, combined with votes, produced the Top 10 Florida Beach Bars for 2011.
Top 10 Florida Beach Bars – 2011
1 Jimmy B's Beach Bar, St. Pete Beach
2 The Golden Lion Cafe, Flagler Beach
3 Shephard's Beach Resort, Clearwater Beach
4 Racing's North Turn, Daytona Beach
5 Inlet Harbor Restaurant, Ponce Inlet
6 Frenchy's Rockaway Grill, Clearwater Beach
7 The Cottage Beach and Grill, Ft. Myers Beach
8 Ocean Deck, Daytona Beach
9 Paradise Inn, Pensacola
10 The Turtle Club at Snappers, Key Largo
Jimmy B's Beach Bar on St. Pete Beach ranks first as the Best Florida Beach Bar for 2011. A top vote getter, Jimmy B's is just about unbeatable when it comes to location and entertainment. The Golden Lion Café took second place and the award for Best Waterside Beach Bar. Shephard's came in third and won the award for Best Beachside Bar.
"Picking the best Florida beach bar is a tough task. Each beach bar has something special to offer," said Chris Sancin, Co-founder of FloridaBeachBar.com. "So we asked visitors to our site and Facebook page to vote on their favorite. The response was greater than we imagined." As a result, site visitors were highly influential in selecting the top beach bars.
Florida Beach Bar was founded by Chris and John Sancin in October of 2010. It is a privately held Sarasota Florida based LLC. that offers a complete directory and review of Florida beach bars. Nearly 10,000 visitors view the site each month, a number that has continually increased since the site went live late last year. The web site sells advertising to both beach bars and related businesses. You can visit the web site at http://www.floridabeachbar.com.
###