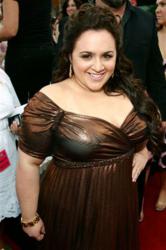 "To be able to help change one kid's life for the better, by giving them a summer at Camp Shane, is very exciting," says Nikki Blonsky.
(PRWEB) May 24, 2011
Kobe Howard a 13-year-old from Oklahoma has won a nine-week stay (with room and board included) to Camp Shane, the longest-running weight-loss camp for children and teens in the country, for the 2011 summer session.
Blonsky, the star of the funny and provocative ABC Family TV show, Huge, which followed the lives of teens and staff at a weight-loss camp, visited Camp Shane last summer to announce the scholarship in her name. Blonsky urged the campers to get rid of their negative self-image and make use of their time at Camp Shane to learn about healthy eating, nutrition, exercise, and most-importantly, self acceptance--urging them to not judge their insides by other people's outsides. "I am proud of myself for being me, an individual," Blonsky said. "You should be proud of yourselves too." Her show, Huge, Blonsky said, "was just like the program here at Camp Shane, not only about losing weight, it's about finding out who you are are as person."
Kobe's winning essay submission (written with a little help from his mom, Brandy Howard) was selected from hundreds submitted and detailed why he wanted (and needed) to win the scholarship. Once an athletic kid, Kobe's physical activity came to an abrupt halt when he suffered a debilitating knee injury. The enforced inactivity caused Kobe's weight to balloon to 230 pounds, far too much for his 5-foot 4-inch frame. Recent surgery corrected the torn ligament in his knee, allowing him to once again begin exercising. He and his mom learned of Camp Shane online, but thought Kobe's attendance would have to remain a dream.
"I am a student and the single-mother of three kids," says Brandy. "I couldn't afford the fee for him to attend the camp."
That's when Brandy learned of the Blonsky scholarship and helped Kobe write his essay. The resulting entry touched Nikki Blonsky's heart.
"To be able to help change one kid's life for the better, by giving them a summer at Camp Shane, is very exciting," says Blonsky. "I wish I had all the money in the world so I could help all the kids who entered, but I am very proud to know I will be helping Kobe. I hope he has a great summer at this place I just adore—Camp Shane."
"Nikki has inspired our campers with her confidence, energy and absolute belief that anyone can change their lives with hard work and the right encouragement," says Ziporah Janowski, Co-founder of Camp Shane. "We were delighted to partner with her on this scholarship and look forward to welcoming Kobe here, to help him lose weight, get healthy and start on the path towards a brighter future."
When told of the win by phone, Kobe tearfully repeated, "I can't believe it, I just can't believe it..."
His mother was a bit more eloquent, "I can't even tell you how much we appreciate this and how grateful we are to Nikki Blonsky and Camp Shane. Because of them, my son is going to get his life back."
For more information about about the program at Camp Shane, which helps children and teens to learn about nutrition, exercise and weight loss (all in a fun summer camp setting), please visit http://www.campshane.com or call (914) 271-4141.
# # #