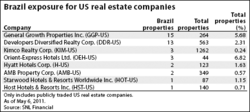 As of May 6, 2011, General Growth owned 15 assets in Brazil, which makes up 5.68% of its total portfolio.
Charlottesville, VA (PRWEB) May 24, 2011
According to a recent SNL Real Estate report, General Growth Properties Inc. shows the highest exposure to Brazil of all SNL-covered U.S. real estate companies. The Chicago-based mall REIT's Brazilian joint venture, Aliansce Shopping Centers SA, completed its IPO on the Brazilian Stock Exchange in 2010. As of May 6, General Growth owned 15 assets in Brazil, which makes up 5.68% of its total portfolio.
With a portfolio of regional malls and shopping centers located mostly in the states of Minas Gerais, Rio de Janeiro and São Paulo, General Growth has strong retail exposure to the three most populous areas of Brazil.
Developers Diversified Realty Corp. also shows significant exposure to Brazil, with 13 assets, or 2.31% of its total portfolio, located in the country. Of those 13 assets, three are shopping centers that are under development. Developers Diversified also gained exposure to Brazil through its investment in a joint venture, Sonae Sierra Brasil SA, which priced its IPO in February.
On the whole, it appears that U.S. property companies are focused on shopping and travel as a means to drive their Brazilian portfolio performance. All 40 properties owned by SNL-covered U.S. real estate companies are retail, hotel or land assets, with 31 of the 40 comprising retail assets.
We are left to wonder if real estate companies in other property sectors will consider investment in Brazil as two of the world's largest sporting events inch closer to center stage in Brazil.
About SNL Real Estate
SNL Real Estate, a division of SNL Financial, is a leading provider of data, news and analytics for global real estate securities in North America, Europe and Asia-Pacific. SNL collects, standardizes and disseminates all relevant corporate, financial and market data- plus news and analysis- for real estate securities around the world. Other business sectors covered by parent company, SNL Financial include Banking, Financial Services, Insurance, Energy and Media & Communications. The SNL information service integrates breaking news, comprehensive data and expert analysis into an electronic database available online and updated around the clock. For more information, visit http://www.snl.com.
SNL Financial
One SNL Plaza
Charlottesville, VA
22902
434.977.1600
Other office locations:
Ahmedabad, India; Arlington, Va.; Boston, Mass.; Boulder, Colo.; Islamabad, Pakistan; Jersey City, N.J.; London; Monterey, Calif.; New York; Richmond, Va.
Visit SNL in the Media to learn more about resources available to members of the media.
SNL Financial on LinkedIn: http://linkedin.com/company/snl-financial
Follow Us on Twitter: http://twitter.com/#!/SNLFinancial/snl-corporate-directory-2
###