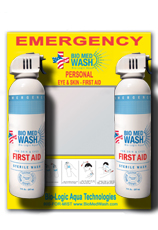 Grants Pass, OR (PRWEB) May 25, 2011
Bio-Logic Aqua Research, of Grants Pass, Oregon, announces the first hand held emergency eye wash and skin wash device for first aid and emergency response. How will this breakthrough product, Bio Med Wash, save lives?
Smoke, heat and dust may make it impossible to see. Plumbed eyewash stations require stopping and are intended for single person use. Chemical washes may cause blurred vision, disorientation and allergic reaction.
And now, in response to requests by emergency medical professionals, there is BIO MED WASH.
Bio Med Wash is an all-natural first aid water wash for eyes, skin and wounds. Bio Med Wash can be used for irritation due to dust, smoke, heat, fumes, pepper spray, wounds, burns, skin irritants, etc.
Bio Med Wash utilizes bag-on-valve technology, releasing a pressurized sterile water spray. It remains sterile under unsanitary conditions – even when the unit is partially expended.
Bio Med Wash is a hand-held trigger grip device, and can be carried in a pocket or on belt, and may be actuated while running and safely handed off to multiple individuals!

Contains 100% Bio-Logic Aqua® tissue-culture grade water.
Chemical free, non-saline, non-allergenic, no burning eyes or blurred vision.
Available accessories: Mounting bracket (for wall or truck), belt holster, two-canister eye wash station, 15 canister eye wash station, military coloration.
Four year shelf-life.
Bio Med Wash is the fastest growing first aid device in sales in the US and Canada. Bio Med Wash has been sold to and endorsed by major US police departments and US troops in Iraq and Afghanistan.
###