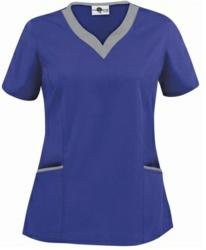 Sea Grape Scrubs: Feel The Comfort!
(PRWEB) May 25, 2011
The Sea Grape Scrubs line, created by Uniform Advantage, is the newest member in the UA family of exclusive scrubs: Happy Scrubs, UA Scrubs, and Butter Soft Scrubs lines.
Sea Grape Scrubs were designed to bring a new dynamic to the UA portfolio. The entire look of Sea Grape Scrubs has a contemporary vibe with sporty undertones, which can be attributed to the durability and comfortable fit and the unique detail added to each style.
The Sea Grape Scrubs line is filled with rich colors including a bold red color called Blaze, a lime green color called Limelight, a deep blue color called Sapphire and a neutral grey called Shadow. Each color was carefully chosen to work together beautifully in the bold prints that help make this line stand out from others. Strong geometric shapes are incorporated in each design, giving the overall line the contemporary/sporty look it is intended to represent.
While the design, shapes, colors and prints are topically bold, Sea Grape Scrubs are made from a soft, peach skin fabric with a slight stretch that falls lightly against your skin. This contrast of the soft and stretchy fabric gives Sea Grape Scrubs a sense of lightheartedness—giving the overall line an exquisite combination of comfort and style.
Sea Grape Scrubs are only available at Uniform Advantage, the number one place for Scrubs and all of your nursing uniform needs. For more information about Sea Grape Scrubs and the different styles and colors we offer, please visit http://www.UniformAdvantage.com.
About Uniform Advantage
Uniform Advantage is a leading retailer of scrubs and medical uniforms. Founded in 1985, the company operates out of Plantation, Florida and ships from their distribution center near Atlanta, Georgia. It has grown to include 27 scrubs stores located in key cities across the US and Canada, a catalog division and an entity dedicated to the online market.
For more information and to view their garments, visit the Uniform Advantage web site or call 800-283-8708.
###