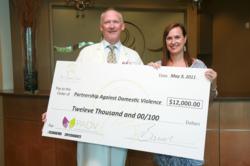 Alpharetta, GA (PRWEB) May 31, 2011
Investing in the community has been a hallmark for The Swan Center for Plastic Surgery since establishing in 1992. The practice hosted its bi annual "Unmask Your Beauty" Girl's Night Out Event on April 28, 2011. The event benefited Atlanta-based organization, Partnership Against Domestic Violence (PADV). The founder of The Swan Center for Plastic Surgery, Dr. Joseph Bauer presented the $12,000 check to PADV, Meagan Fulmer, and Vice-President of Development.
"PADV is a cause close to the hearts of our patients, surgeons, and staff," Bauer said. "We are excited about our budding relationship with PADV and look forward to working with them for years to come," said Bauer.
For 36 years, PADV, the largest nonprofit domestic violence organization in Georgia, has provided professional, compassionate and empowering support to 18,000 battered women and their children in metro Atlanta.
"Unmask Your Beauty" Girl's Night Out Event was created to showcase the partnership The Swan Center has with PADV, while at the same time educating the public of the services offered by both The Swan Center and PADV in a an exciting and entertainment filled evening.
"Working with The Swan Center for Plastic Surgery has certainly been rewarding," said Meagan Fulmer Vice President of Development for PADV. "We know that with The Swan Center's help we can provide assistance to victims of domestic violence and work towards our goal of eliminating it."
Hundreds of attendees enjoyed a night of pleasurable interaction with live demonstrations, Q & A with board-certified plastic surgeons, shopping Macy's Boutique, make-up consultations with Dior, spa services from Remede Spa at The St. Regis Atlanta and an amazing display of luxury vehicles courtesy of RBM of Atlanta-North, Mercedes Benz. Complimentary fare was provided by Indigo and cocktails courtesy Grey Goose VODKA. Guests were invited to participate in a silent auction to win amazing prizes like Taylor Swift tickets, custom artwork, Atlanta Hawks Suite Package and spa services from The Swan Center for Plastic Surgery in Atlanta just to name a few, with net proceeds benefiting PADV.
The Swan Center for Plastic Surgery in Atlanta specializes in cosmetic surgery of the breast, body and face and offers skin and spa treatments. The Swan Center is accredited by the Joint Commission on Accreditation of Healthcare Organizations (JCAHO), an independent, not-for-profit organization; it is the nation's oldest and largest standards-setting and accrediting body in health care focusing on patient safety and quality of care. Each and every plastic surgeon at Atlanta's The Swan Center is board-certified by the American Board of Plastic Surgery among other professional achievements. To learn more about The Swan Center for Plastic Surgery or to schedule a consultation, browse http://www.swancenteratlanta.com, call (770) 667-0904 or stop by The Swan Building at 4165 Old Milton Pkwy, Suite 200 East, Alpharetta, GA 30005.
###