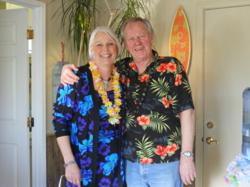 Ernie and Velma say.... "Get your "hula" on!"
Bellingham, WA (PRWEB) May 25, 2011
Wiki Wiki Park-n-Shuttle announces local event happening during the annual Ski to Sea Marathon. On the eve before the big race, come join the fun at the Ski to Sea Block Party/Luau at Boundary Bay Brewery in Bellingham, WA. Wear the best Hawaiian Luau outfit and get ready to hula for a chance to win two return tickets from Bellingham to Honolulu courtesy of Alaska Airlines! Wiki Wiki Park n Shuttle is providing free parking to the winning recipients! There'll be live music, dancing, food, and fun!
When: Saturday May 28th: 5-9pm
Where: 1107 Railroad Avenue, Bellingham, WA
A little history of the Ski to Sea event. The Ski to Sea Festival consists of a 100 mile relay race of seven venues encompassing seven different sports, a historical hometown parade, and other special events provide a wide variety of entertainment and adventure for all who participate. A Ski to Sea Race team consists of 8 racers (2 in the canoe leg) for the seven race legs (Cross Country Ski; Downhill Ski/Snowboard; Running; Road Bike; Canoe; Mountain Bike; Kayak). A racer can only be on one team, and only complete one leg. A support team is recommended to carpool the team to the different race leg venues. From the top of Mt. Baker to Bellingham Bay, discover Whatcom County's recreational playground and the 'Ski to Sea' Experience. The Ski to Sea Race is a program of Whatcom Events, a community non-profit 501(c)3 which impacts Bellingham with about 4,000+ competitors plus added support people for each team, thus a dramatic impact on the Bellingham airport, dining facilities and hotels.
This is a free outdoor event featuring:
Live Music by The Atlantics
Hawaiian Luau Theme-(Chance to win a trip to Hawaii!)
Beer Garden
Boundary Bay Food
Free Ski to Sea beer glasses to the first 800 racers to show up wearing their race bibs
Cupcake Challenge between local bakeries-- First 200 or so in the door get the chance to taste and judge which Bakery makes the best cupcake in town!
Chance to meet racers from our Sister Cities International Team
Take your photo with a cut-out of Chris with his 20 Potatoes Diet messages and obtain a handout of Center Plate Potato Diet recipes
Trailer for the movie about the original 1911 Race
The official Ski to Sea Song!
This is an all ages event, 21+ only for the beer garden.
About Wiki Wiki Park n Shuttle:
Once Alaska Airlines announced direct flights to Honolulu from the Bellingham International Airport in the beginning of this year, Ernie and Velma Henken decided this was a good time to introduce off-site parking with a tropical theme and cater to such travelers. From their own experience of traveling, the where to find parking... how to get luggage from point A to point B, deal with traffic and uncertainties... can make traveling hard work. Wiki Wiki Park n Shuttle's goal is to take this stress away... and offer a relaxed atmosphere with added fun... ladies receive a silk lei, everyone is offered a family-friendly Hawaiian Mai Tai beverage as Ernie shares a few stories including a small ritual. Once the travelers board the Wiki Wiki Shuttle, they are serenaded with Hawaiian music right to the departure curb at the airport. Upon the traveler's return, the Wiki Wiki Shuttle is waiting at the curbside anxiously waiting to hear of the recent vacation highlights. Once back at the parking facility approximately 3 miles distance on the frontage road of the Interstate 5, fresh Kona coffee is offered as well as hot chocolate to help warm up and wake up the overnight flyers. Everyone leaves with a bottle of water to help keep the hydration up while heading home.
Offering good old fashioned service and fun is what sets Wiki Wiki Park n Shuttle apart.
Wiki Wiki Park n Shuttle LLC, established March 2011
4770 Pacific Hwy.
Bellingham, WA 98226
1.888.233.5523
Wikiwikiparknshuttle.com
http://www.facebook.com/wikiwikiparknshuttle.com
info(at)wikiwikiparknshuttle(dot)com
Owners; Ernie & Velma Henken
###