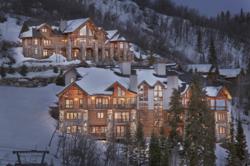 Our guests realize that their concerns are reduced by working with a professional property manager that has the resources and commitment to ensure a great experience during their stay.
Steamboat Springs, CO (PRWEB) May 24, 2011
Moving Mountains, in Steamboat Springs, sees itself as part of a new breed of luxury lodging providers that have replaced the destination club model and are challenging hotels and condo complexes with lodging that offers more privacy and a range of five-star hospitality services. And the numbers show that they are onto something.
The steady emergence of vacation rental homes as a significant sector of the lodging market is reflected by growth at HomeAway.com, which now markets over 430,000 paid listings worldwide in an industry that was estimated at $10bn in 2006 and over $24bn in 2011. The current growth rate is twice the rate of the general travel market.
"Whilst the internet has allowed a whole generation of property owners to "get into the rental business" through the concept of VRBO (Vacation Rental by Owner), there is still a great reluctance on the part of the general public to rent a home from "someone you met on the internet" and these perceptions still persist." Commented Robin Craigen, President of Moving Mountains. "That is where Moving Mountains has made a difference".
Craigen continued, "Our guests realize that their concerns are reduced by working with a professional property manager that has the resources and commitment to ensure a great experience during their stay. The relationship develops from there and has lead to an exceptionally high level of repeat business and referrals from past guests."
The increasing popularity of online reviews sites like Flipkey.com has significantly helped Moving Mountains to make their case, where their review profile distances them from the competition.
In contrast hotel and condo operators are left wondering what they can do to attract the new breed of traveler that values the additional privacy, high quality amenities and furnishings, and the significant extra square footage per dollar that vacation rental homes provide. The individual character of each property, and the level of privacy that comes standard in these homes, outshines the traditional "cookie-cutter" model of commoditized lodging found in many hotels and condo complexes.
Similarly, the popularity of Destination Clubs has been reversed in the last 3 – 4 years. These clubs proliferated in an era of easy money and lavish, mouth-watering promises. The pay-to-play model was expensive to join ($100k - $1m+ plus), expensive each year (upwards of $70,000 annually in some cases) and not sustainable when the flow of new members ran dry. As over 20 clubs failed the members awoke from their dreams to a new reality. For the clubs that survived the model is far from perfect with too many members seeking their favorite destinations all at the same time leading to frustration and wait lists.
The final twist is that in today's economy second home owners have become more realistic about their resort investments and the allure of receiving income when the property is not being used personally. This makes more sense than a home left vacant for 50 weeks per year. Because of this the variety and quality of homes available has expanded significantly creating new opportunity for luxury specialists like Moving Mountains to offer incredible homes and hospitality services to rival any 5-star hotel.
Craigen concluded "Vacation Home Rentals are here to stay and are now being taken seriously, not just by the property management professionals like Moving Mountains, but by the discerning traveler seeking a better vacation experience."
About Moving Mountains Chalets:
Moving Mountains specializes in luxury property management and vacation home rentals in Steamboat Springs, CO. Founded in 1997 by Robin & Heather Craigen the company focuses on providing ultimate vacation experiences in high quality vacation homes. The company currently manages 35 luxury properties and offers guests a comprehensive range of vacation planning services for complete vacation customization.
###