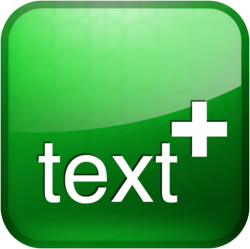 Los Angeles, CA (PRWEB) May 24, 2011
Already the most popular free texting and group texting app of all time, mobile social messaging app textPlus continues to scale at record pace today by releasing unique versions of its textPlus Free Text and Group Text and textPlus GOLD apps exclusively on Amazon's new Appstore for Android. Amazon is featuring textPlus GOLD as the Free App of the Day feature today. textPlus is the largest mobile social messaging app on the market, with over 17 million downloads.
textPlus has proven exceptionally popular with consumers. More than 54 million messages are sent every day using textPlus, a 15% percent increase in May month to date.
"To keep up with demand, we're working furiously to make textPlus available to as many users as possible," said GOGII CEO Scott Lahman. "Adding Amazon, a trusted destination for millions of consumers, is exciting because it provides us with another substantial distribution channel to deliver our app; given the high rate of adoption of textPlus we've seen in other app markets, we expect Amazon Appstore shoppers to embrace textPlus enthusiastically."
textPlus on Amazon Appstore for Android give users a free phone number for fast, free and unlimited texting. With textPlus, users can group text with friends and talk to people all over the world about what interests them via chat communities.
Consumers can download the app from the Amazon Appstore here: http://www.textplus.com/amazonappstore
About GOGII
GOGII (go-jee) is a mobile communications technology company and creator of the textPlus app. GOGII is a U.S.-based startup backed by venture capital firms Kleiner Perkins Caufield & Byers, Matrix Partners and GRP Partners. GOGII was founded in 2007 by the three founders of JAMDAT Mobile, the leading mobile entertainment publisher that was acquired by Electronic Arts in 2006. The company is committed to the safety, security and privacy of its users.
About textPlus
textPlus brings free group and Community texting to the iPad, iPhone, iPod touch and Android phones through its mobile application, permanent short code, 60611 and real phone numbers. textPlus is carrier and Mobile Marketing Association (MMA) compliant and enables seamless interaction between app users and their friends using regular text messaging (SMS).
###