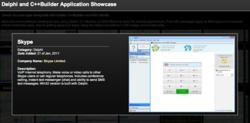 The size of this acquisition speaks volumes about the value of the applications that are built in Delphi
San Francisco, CA (PRWEB) May 24, 2011
Among millions of Delphi users around the globe is the development team responsible for building Skype for Windows, and last week this Delphi app paid off big. Microsoft announced the $8.5 billion acquisition of Skype, the most expensive acquisition in Microsoft's history. Skype for Windows, the most popular version of Skype, was built in Delphi, Embarcadero Technologies' most popular integrated development environment (IDE).
Embarcadero's Delphi enables developers to build native Windows applications like Skype five times faster and with fewer resources than with other development solutions. From the desktop to the web to the server, every feature in Delphi's development environment is designed to speed coding, and its RAD frameworks are designed to reduce the amount of code required for any given development task, all of which means faster time to completion and increased application quality.
"The size of this acquisition speaks volumes about the value of the applications that are built in Delphi," said Wayne Williams, CEO, Embarcadero Technologies. "Delphi is a key technology that enables developers to create very modern, high-quality applications faster than ever before, and these applications are changing the way we work and live."
In addition to Skype, thousands of other popular applications are being built in Delphi. From ISV-packaged apps to Web apps and business-critical enterprise apps, developers choose Delphi because it is the fastest, easiest way to create applications and if offers the latest innovations in RAD design and functionality. Other applications developed in Delphi include Audio Grabber, MediaMonkey, Macromedia Captivate, QuickBooks Point of Sale, Sirius32, Webroot Spy Sweeper and Yahoo! Go for TV. To see a sampling of applications built in Delphi, visit http://www.embarcadero.com/rad-in-action/application-showcase
About Delphi
Delphi is the fastest way to deliver ultra-rich, ultra-fast Windows applications. It dramatically reduces coding time and helps developers create applications up to five times faster with component-based development and a fully visual two-way RAD IDE. Delphi XE speeds development across multiple Windows and database platforms – for GUI desktop applications, interactive touch-screen, kiosk, and database-driven multi-tier, cloud and Web applications. Delphi XE is available in Professional, Enterprise and Architect editions. For more information, visit http://www.embarcadero.com/products/delphi
About Embarcadero Technologies
Embarcadero Technologies, Inc. is a leading provider of award-winning tools for application developers and database professionals so they can design systems right, build them faster and run them better, regardless of their platform or programming language. Ninety of the Fortune 100 and an active community of more than three million users worldwide rely on Embarcadero products to increase productivity, reduce costs, simplify change management and compliance and accelerate innovation. Founded in 1993, Embarcadero is headquartered in San Francisco, with offices located around the world. Embarcadero is online at http://www.embarcadero.com.
Embarcadero, the Embarcadero Technologies logos and all other Embarcadero Technologies product or service names are trademarks or registered trademarks of Embarcadero Technologies, Inc. All other trademarks are property of their respective owners.
# # #