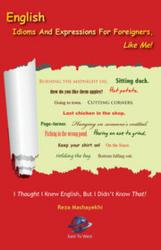 I can see how this book could be very useful for a visitor from another country. It doesn't matter if you are "one taco short of a combination plate" or a "one-trick pony," you will enjoy this book!

Mark Sutton
San Diego, California
San Diego (PRWEB) May 27, 2011
With a compelling bag of life experience and research, getting to the bottom of idioms and expressions has been a lifelong journey for author Reza Mashayekhi. Reza's newly published English Expressions and Idioms For Foreigners, Like Me! --- I Thought I Knew English But I Didn't Know That! is the culmination of that journey. Published in May 2011, it has already been selected as a finalist in the Indie Excellence Awards!
Uncovering the mystery of common sayings has been Reza's modus operandi while delineating over 2,000 phrases for students of the English language, writers of all kinds and even marketing and communication gurus. This new go-to directory has easy-to-follow explanations with some likely origins and backgrounds, and is spritzed with comedic illustrations and germane expressions from other regions of world.
With a degree in aerospace engineering from University of Michigan, not in English literature, Reza Mashayekhi has a unique perspective. He developed his cunning passion for English idioms, phrases, and expressions alongside his engineering work, and honed it through teaching English to non-English speakers. "Politicians speak in idioms, and so do teachers, doctors, and the guy at the supermarket," says Reza. In terms of phraseology, Reza also explains, "Advertisers and song writers intimately know the selling power of clever and catchy sayings, and my book is full of them!"
This book stands out by accomplishing what other books have yet to achieve-- addressing relevant and apropos expressions undiluted by obsolete slang. English jargon can be a jungle, but Reza Mashayehki has trailblazed a path for quality learning. From 'connecting the dots,' to 'ace in the hole,' to 'pushing someone's buttons,' – readers will engage many practical sayings that will empower them in their pursuit of effective use of language to communicate better!
5.5 x 8.5, 404 pages
Softcover: 978-0-9827736-5-9
Hardcover: 978-0-9827736-6-6
Pocketbook: 978-0-9827736-7-3
Ebook: 978-0-9827736-8-0
PDF: 978-0-9827736-9-7
Publication Date: May 2011
For more information about this book and author - please visit http://www.EnglishIdiomsAndExpressions.com
If you would like a copy of the book for consideration of a complimentary review or to interview the author, please contact marc.emmelmann(at)gmail(dot)com
English Idioms and Expressions is on Facebook HERE.
Tip Sheet
Thank you for writing this book. So many times, perhaps out of laziness or habit, we cause stress and distrust in life by using an obscure phrase or expression, when we could just as easily use words with our intent clearly stated. I expect that your readers will benefit greatly by learning the true meaning behind so many common expressions we take for granted. In addition, I hope many readers with English as their primary language will take seriously the importance of clarity in thought and speech. As "texting" and other technological shortcuts begin to dominate our communications systems, this will become increasingly important. Congratulations upon completing a most daunting task, and thank you for allowing me to add my comments.
Dorothy Miller, Literary Consultant
San Diego, California
This book makes my job easier. I'll have much more to talk about in my classes. Your book is informative, and I look forward to using it. I encourage ESL students to read it and use it as a reference.
Rachael Chen, English teacher
Taipei, Taiwan
I like the way this book goes beyond the American culture and covers many other countries' sayings, anecdotes and idioms in a very clear and concise language. This way, Reza brings us to the realization that people of different cultures and backgrounds share more or less the same thoughts and idioms on the same subjects. Reza's extensive work is definitely appreciated by me, and being an ESL instructor, I can use it as a valuable guideline in the curriculum of my class.
Angie Moeen, ESL teacher
San Diego, California
# # #