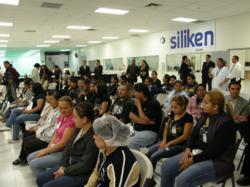 Tijuana, Mexico (PRWEB) May 24, 2011
After a six month set-up process supported by Tijuana EDC members, Siliken celebrated the opening of its latest manufacturing facility in Tijuana, Mexico in a ceremony attended by the Baja California State Governor, the Mayor of Tijuana, private sectors representatives, and the plant's 180 employees.
The startup of Siliken's fifth manufacturing plant in Tijuana is a decisive move of manufacture in mexico in its bid to reduce production costs of their solar panels and maintain its competitiveness in the US market. Alfredo Pucre, Siliken's CTO and vice-president, that hosted the event praised the highly skilled work force available in Tijuana. "Our associates produce 1,500 modules weekly, complying with the highest market requirements and quality specifications, which in turn allows the plant to ensure a faster certification process for its products.
Located in Tijuana's Otay district, 5 minutes from the US border, this plant is the latest addition to Siliken's global network which includes manufacturing facilities located in California, Spain, Mexico, Italy and France. The company will manufacture solar modules and the number of employees is expected to grow to 500 within two years.
During the official ribbon cutting ceremony, Jose Guadalupe Osuna Millan, Governor of the State of Baja California, highlighted the importance of this emerging industry and its potential in both the United States and the local market.
"The presence of renewable energy leaders like Siliken positions Tijuana in the clean tech market as a prime manufacturing location. This comes with the opportunity to develop a whole new supply base for this industry," stated Governor Osuna. Silken joins Kyocera and Unisolar that have operations in Tijuana and employ over 1,000 people.
Jaime Gonzalez Luna, President of the Tijuana EDC, congratulated Siliken on its efficient start up process, and pointed out that "It was an honor for the Tijuana EDC to participate in the start up process, coordinating soft-landing services with industrial suppliers, shelter services and developers, among others that helped speed up the process". The Tijuana EDC is committed not only to facilitating the initial start up, but also to providing continued support to the established companies by linking them with different programs to become more competitive."
The State Governor presented a check to company representatives as part of an incentives package and invited the company to take advantage of the diversity of economic funds available for manufacturing companies. "This is the first time a that the Government incentives where applied through a shelter company" highlighted John Riley, President of BC Manufacturing that provides Shelter services to Silken.
About Tijuana EDC: The Tijuana EDC is a nonprofit corporation dedicated to helping companies establish successful manufacturing operations in Mexico and to take advantage of the business opportunities of vertical integration, introducing qualified Mexican suppliers and facilitating access to new markets. For more information on how to take advantage of these opportunities contact the Tijuana EDC at contact(at)tijuana-mex(dot)com or visit the EDC website at http://www.tijuana-edc.com/english/
# # #