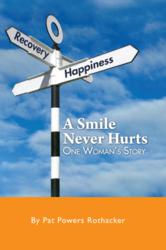 "I wish I had a Hollywood awakening where the patient sits up in bed and orders breakfast."
Fairfax Virginia (PRWEB) May 24, 2011
The day Pat Powers Rothacker learned she had less than a year to live was one that changed her and her family's lives forever. In her new memoir, A Smile Never Hurts: One Woman's Story, (Three Bean Press; May 2011; softcover/$15.95; ISBN 978 0 9767276-5-1) Rothacker takes readers on an extraordinary medical journey that documents her life-saving liver transplant surgery. Using short anecdotes and a heavy dose of humor, Pat takes readers through her long wait, surgery, and recovery from her point of view and those around her.
Pat describes a lifetime of medical ailments starting with her premature birth to her own self-inflicted concussion while working as an airline stewardess in the 1950s. Her ability to share these traumatic stories with a sense of levity sets the background for her greatest medical challenge-- the need for a new liver. And while this medical emergency is no laughing matter, Pat's view of the medical profession, her relationship to God, and her own ability to accept her fate offers readers an insight into the importance of keeping a positive attitude.
Told with Rothacker's trademark sense of humor and honesty about her long recovery, her story is a quick and uplifting read for anyone suffering with a life-threatening illness or supporting someone who is suffering. "I want to share my journey with others who may be going through an organ transplant or know someone who is and to show them that there is a great life after a liver transplantation."
About her surgery, Rothacker writes that "I wish I had a Hollywood awakening where the patient sits up in bed and orders breakfast." Later during her long recovery she admits, "People around me were never sure if they were dealing with the rational me or the drug-induced me."
A Smile Never Hurts also includes Detours, short segments where the author relays medical stories such as the woman who insisted on shaving her legs before the EMTs arrived to take her to the hospital. These asides connect the range of emotions we feel when dealing with trauma.
A full electronic review copy or review copy of the book is available to the media and the book can be purchased directly through the publisher. All proceeds from A Smile Never Hurts go to provide scholarships to Cathedral high school in Manhattan.
For more information contact: Sharon Ritchey at Sharon(at)homerowed(dot)com or 703.628.6676
###