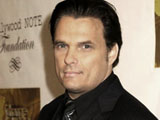 Dominique Strauss-Kahn deserves a fair trial.
(PRWEB) May 24, 2011
New York International Pictures, an Indie film company, has hired Chapa to write, produce and direct the first and only biopic about the life of Dominique Strauss-Kahn and the controversy surrounding the alleged rape charges.
Chapa says the film will be titled: MONEY MAN - The Unauthorized Story of Dominique Strauss-Kahn.
Chapa has stated that he is used to controversy after being the only person who has ever played Roman Polanski, Bobby Fischer and Marlon Brando.
Chapa won the Best Director and Best Drama awards at the New York International Independent Film & Video Festival for his feature film Brando Unauthorized, in which he played Marlon Brando and directed himself along with his son Ricco Chapa in the role of Christian Brando.
Chapa also won for Best Production at the Indie Fest for his feature film Polanski Unauthorized, a film that late Hollywood legend David Carradine called a "masterpiece."
Chapa says the Strauss-Kahn controversy is something he found compelling from the beginning and that the story will be based on facts and court documents only.
Damian Chapa is best known for his lead role of Miklo Velka in the cult classic Blood In Blood Out, which garnered a Best Director award for Taylor Hackford at the Tokyo Film Festival.
Chapa states that the film will begin production in September 2011 in New York City and throughout Europe.
Publicity:
RONNIE BANERJEE
BANERJEE PR
310-739-8110
sitfisch(at)yahoo(dot)com
###