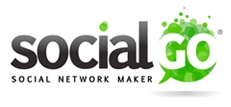 (PRWEB) May 25, 2011
While many of the arguments among gamers revolve around whether PCs are a better platform for gaming than consoles, SocialGO has created a platform that won't create so much strife. While many people who think of social media and gaming in one sentence, they tend to think about social games such as Mafia Wars and Farmville which are played on Facebook. Instead SocialGO is providing a social media platform that all gamers, regardless of game or platform preferences, can make use of. They are turning against the trend of bringing gaming into social media by bringing a social website to the gaming community.
The constantly changing nature of games and platforms means that gamers are constantly communicating with each other on the internet. However, due to the sometimes negative light that gamers can be viewed in, existing social media platforms may not provide a completely friendly environment in which they can communicate. So the solution of creating a completely separate social media network just for their clan or group of gamers can facilitate even better communication. This is particularly valuable to large groups who play games together but may not all reside in a close physical location.
Having a devoted forum for their ideas and communication can encourage interaction beyond simply what games they're playing and what the new releases are going to be. Having a social networking platform that they can create and modify to suit their needs can encourage more personal interaction, allowing clan members to better know the gamers that they play alongside. Having all communication running through a central social media network can help the community help its members when issues occur in games or platforms. A social network that functions well can enhance the gamers experience and help bring online friendships into the real world by encouraging organisation of real world events beyond the social network.
# # #