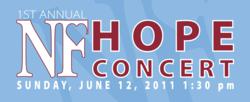 No amount of success on stage can reach his goal of giving his three year-old daughter, Emma a normal childhood without neurofibromatosis
Las Vegas, NV (PRWEB) May 24, 2011
Jeff Leibow, one of the key leading cast members of the musical hit, 'Jersey Boys' continues to be thankful for the success the show is having after three years in Las Vegas. But no amount of success on stage can reach his goal of giving his three year-old daughter, Emma a normal childhood without neurofibromatosis, known as NF, which causes tumors to grow on nerve endings throughout a person's body.
"My daughter, Emma, was diagnosed with Type-1 NF when she was 9 months old. When she was born, my wife, Melody and I found a couple of spots on her chest and leg, which were initially dismissed as 'birth marks.' When more started appearing, our pediatrician suggested we see a neurologist as these spots might be something called, café au lait spots, a common symptom of the neurological disorder, neurofibromatosis. My wife and I had never heard of neurofibromatosis and immediately got lost online reading about the most extreme cases of NF. It's something I imagine that most parents do when they first learn their baby may have this disorder," says Leibow.
The couple soon found out that Neurofibromatosis or NF is one of the most common genetic disorders in the United States. It affects more people than Muscular Dys¬trophy, Tay-Sachs and Huntington's disease combined and is estimated to occur in 1 of 2,500 births.
NF is a genetic disorder of the nervous system which causes tumors to form on the nerves anywhere in the body at any time. This progressive disorder affects all races, all ethnic groups and both sexes equally. It also can cause learning disabilities, seizures, cancer, bone deformities, hearing loss, blindness, ADD, high blood pressure and much more. NF research ben¬efits anyone with these problems whether they have NF or not. In fact, NF research has led us to new discoveries in NF as well as many forms of cancer, learning disabilities and more. NF has three genetically distinct forms: NF-1, NF-2 and Schwannomatosis.
Leibow says that through this research he and his wife soon connected with National Executive Director of NF, Inc., Kim Bischoff and others. Currently NF, Inc. Network has advocated for over $200 million in federally funded NF Research. Sadly, there is so much needed research that needs funding to find a cure for NF while the fact remains that NF is much more widespread and much less known than many other chronic illnesses. For these reasons, the couple felt they had to find a way to raise awareness not only for their daughter, Emma but for so many born with NF every year and for the thousands currently living with NF.
Because of this couple's determination and the generosity of a number of well-known celebrities, a benefit is scheduled for Sunday, June 12 at the Hilton Showroom in Las Vegas. Performers set to appear include but are not limited to:
Rich Little - http://richlittle.com/
Human Nature - http://www.humannaturelasvegas.com/home.html
Gordie Brown- http://www.gordiebrown.com/index_html.htm
Jersey Boys cast members- http://www.jerseyboysvegas.com
Phantom: The Las Vegas Spectacular cast members - http://www.phantomlasvegas.com
The Lion King cast members - http://www.lionking.com
Desmond Meeks- http://www.dezmondmeeks.com
Bischoff says this benefit and the endless hours Leibow and his wife have put in to bring together an event that will feature such an amazing group of national talent, including comedians, singers and actors has the ability to substantially increase awareness for NF nationwide, while also helping to connect new NF families to the NF, Inc. Network who are searching for a place to connect with others facing the same struggles living with NF.
"NF tumors are caused by the tumor suppressor protein, known as RAS, a cellular pathway found in every human. In the case of those with of NF the RAS pathway does not know when to turn off. But with the amount of rare illnesses, diseases and genetic disorders doctors learn in school, NF is just one in a multitude of medical diagnoses they review. As NF is not as well-known as many other genetic disorders, there are still incidents where pediatricians may not diagnose a person with NF. We at NF, Incorporated simply cannot thank the Leibows enough, along with the national celebrities who have volunteered their time and talent to entertain us all come June 12 in Las Vegas, says Bischoff.
Bischoff says she and her organization are incredibly humbled by the amazing work the couple has done on behalf of their daughter, Emma and to help raise awareness and much needed funds for NF nationwide. She encourages as many who can to plan to attend the June 12th event in Las Vegas. And for the Leibows, their daily reminder of why they work so tirelessly to help educate others about NF comes by way of their beautiful little girl, Emma.
"Once a year, Emma has to get an MRI, which requires sedation. It's a scary thing for a little girl who might also have Malignant Hyperthermia, a severe allergy to most anesthetics. Once a year we drive Emma to Los Angeles' Children's Hospital to see Dr. Tena Rosser, Emma's neurologist. Once a year we take Emma to the ophthalmologist; and every day, we pray that Emma will live a relatively symptom-free life and not face some of the more extreme symptoms we first read about online. That is why I am producing this benefit. That is why I am working every day to make sure more people know about this disorder. That is why I hope that the end result will help get federal funding and help the approximately 100,000 people and growing living with NF learn that researchers have finally found a cure for neurofibromatosis," says Leibow.
NF Benefit Event
Date: Sunday, June 12, 2011
Time: 1:30 pm
Location: The Hilton Showroom http://www.lvhilton.com/Play/Entertainment
Hotel Address: 3000 Paradise Road, Las Vegas, NV 89109
Tickets start at $39 (VIP Packages available for $85)
Tickets can be purchased locally by calling 702-732-5755, Toll free at 800-222-5361 or online at http://lvhilton.com
Silent Auction Items to Date:
Entertainment: Ticket packages to Celine Dion, Donny and Marie Osmond, Gladys Knight, Jabbawockeez, Terry Fator, Jersey Boys, Phantom, Lion King and more
Restaurants: Wolgang Puck's Postrio, First Food & Bar, Double Helix Wine Bar, Dos Caminos
Spas/Health: Bikram Yoga Green Valley, Canyon Ranch Spa, Green Valley Ranch Spa, Danielle Merritt (massage therapist)
Golf: Southshore at Lake Las Vegas
Beauty: Fresh Skin Care, The Art of Shaving
Memorabilia: Signed posters, signed show props, signed original artwork
Neurofibromatosis Incorporated
Neurofibromatosis (NF) Inc., established in 1990, is the leading organization supporting the education, awareness and research through advocacy to help find a cure for NF. You can find more information about Neurofibromatosis, Inc. at http://www.nfnetwork.org, NF Inc.'s Facebook page - http://www.facebook.com/pages/Neurofibromatosis-Inc/9766902412 or by calling the office 630-627-1115.
###