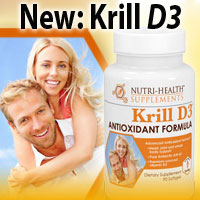 "Clinical nutritionists and doctors agree that essential fatty acids (EFAs) are essential for maintaining optimum health," said Michael Lee, product development director for Nutri-Health
Cottonwood, AZ (PRWEB) May 26, 2011
Nutri-Health Supplements LLC, formulator and distributor of the best-selling Flora Source Multi-Probiotic, has introduced Krill D3 to its popular line of premium natural health supplements.
"Clinical nutritionists and doctors agree that essential fatty acids (EFAs) are essential for maintaining optimum health," said Michael Lee, product development director for Nutri-Health. "And pure, fresh, Antarctic krill oil may just be one of the best sources of EFAs from any natural source."
Krill Oil Gelcaps: Small But Powerful
Krill oil contains EPA (eicosapentaenoic acid) and DHA (docosahexaenoic acid), two omega-3 fatty acids that have been the subject of scores of research studies. Both DHA and EPA have been shown to:

promote healthy triglyceride levels
help maintain cholesterol levels already in the healthy range
support a healthy immune response
support mental clarity and healthy mood
Krill oil is phospholipid based, rather than triglyceride based like most fish oil. Phospholipids are important components of every cell membrane, and phospholipid-based omega-3's such as those in Krill D3 are easily absorbed in the body.
The pure Antarctic krill oil found in Krill D3 has three times more of the powerful antioxidant astaxanthin as fish oil. It also contains Swiss-sourced Vitamin D3, which research suggests helps support cellular, heart, joint, bone and muscle health.
These two powerful nutrients are combined in an easy-to-swallow gelcap less than half the size of the standard fish-oil capsule.
Pure, Fresh, Sustainably Harvested
The krill used in Nutri-Health Krill D3 come from the Antarctic – one of the few remaining pristine oceans on the planet. The krill is sustainably harvested, and strict protocols to preserve its freshness are observed.
Antarctic krill, Euphausia superba, are shrimp-like crustaceans that feed on single-celled phytoplankton. Since krill are near the bottom of the food chain, harmful chemicals don't bio-accumulate.
The Antarctic krill harvest is overseen by the Commission for the Conservation of Antarctic Marine Living Resources (CCAMLR), an international treaty organization whose mission is to protect the marine ecosystem in the Antarctic.
Krill D3 is manufactured in state-of-the-art facilities in the United States.
Vitamin D for Whole-Body Health Support
Vitamin D ("the sunshine vitamin") is technically a hormone, and one of the building blocks of the endocrine system. Its major biologic function is to maintain normal blood levels of calcium and phosphorus. Vitamin D helps form and maintain strong bones, and it is essential to cellular health throughout the body.
Vitamin D has other roles in the body, including modulation of cell growth, neuromuscular and immune function, and inflammation, according to the National Institutes of Health.
Simply put, Vitamin D is one of the broadest-spectrum and most important nutritional supplements available. Each capsule of Krill D3 contains 900 I.U. of Vitamin D as cholecalciferol (D3).
"Our customers are passionate about Nutri-Health products, and we know Krill D3 will be a new customer favorite," said Roger Braun, director of marketing at Nutri-Health. "The combination of krill oil and Vitamin D3 is a whole-body health solution. It's two powerful nutritional supplements in one small gelcap."
For more information on Nutri-Health Supplements, visit http://www.nutri-health.com or call 800-914-6311.
Nutri-Health Supplements, LLC is a leading developer and marketer of probiotic, enzymes and other specialty supplements products. Its premium line of nutraceuticals primarily consists of proprietary Multi-Probiotic® blends and enzyme formulations designed to address the specific health needs of consumers, predominantly digestive and immune health. The company primarily markets its products direct-to-consumer through direct mailing and its websites. Its products are manufactured state-of-the-art National Science Foundation Good Manufacturing Practices (NSF GMP) registered facility and tested in an ISO 9001:2008 certified and ISO 17025 accredited laboratory.
These statements have not been evaluated by the Food and Drug Administration. This product is not intended to diagnose, treat, cure or prevent any disease.
###