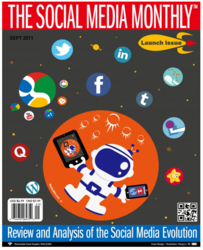 We're ecstatic with the positive responses we've received so far, and look forward to getting our second issue into production
New York City, NY (PRWEB) May 24, 2011
Washington, DC-based technology group, The Cool Blue Company LLC announces world's first printed magazine dedicated to the exploration of the social media evolution at the BlogWorld & New Media Expo 2011 in New York City, NY.
The Social Media Monthly is the world's first printed magazine to focus exclusively on the evolving technology area of social media. Featuring a specially designed cover by artist Yiying Lu (@YiyingLu), known for her famous drawings of the "Fail Whale" used by Twitter and the "Pale Whale" featuring Conan O'Brien. The cover has a bonus removable wall graphic, also designed by Yiying Lu, co-founder of Walls360, a company that creates amazing wall graphics for artists, designers, photographers and brands from around the world. http://walls360.com
The magazine further features a redeemable insert by startup company CherryCard.org. Founded by 18-year old Noah Fradin, CherryCard provides a turnkey cause based marketing solution for merchants of all kinds that allow consumers to give a percentage of their purchases to the cause of their choice at no cost to the consumer. http://cherrycard.org
Featuring articles by social media icons Simon Mainwaring (@simonmainwaring), Beverly Macy (@BeverlyMacy), Shelly Kramer (@ShellyKramer) and Mike Brown (@BrainZooming), the magazine strives to explore the many facets of society that social media is infiltrating. Articles by The Heritage Foundation's Rory Cooper (@RoryCooper) and US Ambassador to New Zealand and Samoa, David Huebner (@DavidHuebner), explore the role social media is playing within the executive branch and diplomatic communications. Main article "I Built A Little Empire…" features an interview with Duleepa Wijayawardhana (@Dups), founder of Empire Avenue.
The launch issue is being distributed to attendees of various social media conferences during May and June, and will be hitting retail store shelves across the nation later in the Summer. "We're ecstatic with the positive responses we've received so far, and look forward to getting our second issue into production" said Robert Fine, founder of Cool Blue Company. http://TheSocialMediaMonthly.com
Partnering with ModernMedia, an agency at the intersection of live, digital and social media that builds events, web sites, social media campaigns and sales & marketing strategies, Cool Blue Company will be holding a magazine launch party at BB King Blues Club & Grill near Times Square on Wednesday, May 25th from 6:00pm-8:00pm. The first 100 attendees will receive a free copy of the magazine. ModernMedia will be raffling a free pass to their upcoming social media conference, RealtimeNY11, taking place June 6th. http://bob.vg/launchtsmm
About The Cool Blue Company LLC
Robert Fine founded the Cool Blue Company LLC. Robert has over 17 years experience as a systems and sales engineer with various companies including CMGI, Hughes Network Systems, and most recently as Senior Director of IT for Global Strategy & Development at Conservation International (CI). He is currently pursuing his PhD at George Mason University where he is researching links between investments in information technology and achieving conservation outcomes.
###