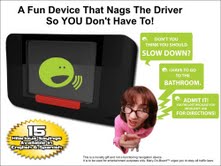 This make's a great gag gift for Father's Day
Troy, MI (PRWEB) May 26, 2011
With Father's Day just around the corner, finding a fun gift that is just right for Dad can be a challenge. However, if that special Dad drives a lot and needs friendly "back-seat driver" reminders, then give him a "Mary-On-Board®."
Mary-On-Board® retails for $19.95 and is an electronic device that offers 15 hilarious "back-seat driver" sayings in both English and Spanish. It attaches to most car dashboards with a non-slip mat and a suction cup mount and also has an integrated picture holding slot so you can add your picture to personalize the Father's Day gift. That special father can then push a button on the device to activate the back-seat driver sayings.
With typical back-seat driving sayings like, "Keep it under 80 miles per hour. You're going to get a ticket" or "Why don't you stop and ask for directions" the Mary-on-Board® device is a great Father's Day gift that will always ensure your Dad or husband remembers to drive safely, even when you aren't in the car with him.
Mary-on-Board® is the brainchild of Mary and Dan Finkelstein of Troy, Mich. who got the idea during a trip to North Carolina.
"My husband was driving and talking on his cell phone and almost missed an important exit until I got his attention, even though we had a GPS system giving him directions," said co-inventor Mary Finkelstein. "It occurred to me that a device that would provide subtle driving reminders would be a fun gag gift."
For a "test-drive" of the device, visit http://www.maryonboard.com and click the "Demo" tab to let the back-seat driving begin. Mary-On-Board® can be purchased online at http://www.maryonboard.com or at Amazon.com (http://www.amazon.com) and $1 from each purchase will also be donated to the National Kidney Foundation. You can also find cool Mary-On-Board® t-shirts and hats on the website. For more information, email info(at)maryonboard(dot)com.
###