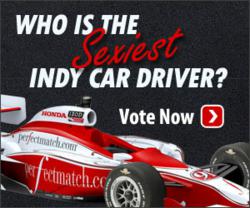 Seattle, WA (PRWEB) May 24, 2011
Tomas Scheckter, driver of the #07 REDLINE Xtreme Car in this year's Centennial (100th Anniversary) Indy 500 on May 29th, won a race of a different sort today. The 30 year-old bachelor from South Africa took in the most votes as "Indy's Sexiest Race Car Driver," a poll conducted by leading online dating and relationship service PerfectMatch.com.
With 551,925 total votes cast, Scheckter received 152,900 votes. Marco Andretti in the #26 car for Andretti Autosport, who edged into the race with his last second qualifying run on a dramatic Bump Day on Sunday, finished 2nd with 124,500 votes, while his teammate, Indy's hottest female racer Danica Patrick placed a solid third with 118,950 votes.
The final top ten (of 20) drivers were as follows:
1. #07 Tomas Scheckter (South Africa) - KV Racing Technology - SH Racing
2. #26 Marco Andretti (USA) - Andretti Autosport
3. #7 Danica Patrick (USA) - Andretti Autosport
4. #06 James Hinchcliffe (Canada) - Newman/Haas Racing
5. #4 JR Hildebrand (USA) - Panther Racing
6. #59 EJ Viso (Venezuela) - KV Racing Technology - Lotus
7. #9 Scott Dixon (New Zealand) - Target Chip Ganassi Racing
8. #82 Tony Kanaan (Brazil) - KV Racing Technology - Lotus
9. #12 Will Power (Australia) - Team Penske
10. #98 Dan Wheldon (UK) - Bryan Herta Autosport
20. (LAST) #38 Graham Rahal (USA) - Chip Ganassi Racing – (2 Votes).
Scheckter, a fan favorite through his social media popularity (@tomasscheckter), has previously been dubbed Forbes.com's "Most Eligible Bachelor in Indianapolis." This past weekend he officially qualified for his 10th consecutive Indy 500, a feat matched only by current drivers Helio Castroneves and KV Racing Technology teammate Tony Kanaan.
"This is one race I never expected to win," said Tomas Scheckter in response to the news that he had won the poll. "I've been so focused on the race that I didn't pay much attention to this poll, but now that the results have come it, I can't help but be flattered -- I would have expected Danica Patrick to bring this one home - the women on PerfectMatch really came through for me!"
The Indianapolis 500, "The Greatest Spectacle in Racing" covers 500 miles, 200 laps on the famous 2.5-mile oval. The race will air live on ABC this Sunday May 29th, at 12p.m. (EDT).
About PerfectMatch.com
PerfectMatch.com (PerfectMatch.com, @perfectmatch), a leading online dating and relationship service, is the best approach for adults seeking successful, lasting relationships. It is the only online dating and relationship service to offer the Duet Total Compatibility System, co-developed by renowned relationship expert Dr. Pepper Schwartz (Dr. Schwartz). Based on over 35 years of research, Duet analyzes the 'whole person', taking into account each member's Personality, Values and Ideals, Life and Lovestyle, Preferences and their Love & Money Assessment to identify and find the person right for them. This unique and proprietary system enables Perfectmatch to provide both the best online capabilities and a premium member experience to those seeking a real love, a relationship or marriage.
###