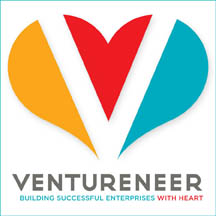 LinkedIn is an under-utilized powerhouse that can rev up outreach for businesses and nonprofits. We'll show how to get a real impact from this tool.
New York, NY (PRWEB) May 25, 2011
Ventureneer's new series of classes offers small business owners and nonprofit leaders -- from novices to savvy users -- the chance to ratchet up their use of LinkedIn.
LinkedIn has 100 million users: professionals, nonprofit leaders, businesses -- connections of all sorts. Yet most people have yet to tap the gold mine of information that awaits them in that network.
Ventureneer's new 3-part series of virtual classes -- take one or all -- will focus on using LinkedIn to full effect, as an individual or an organization, as a solo-preneur, small business or nonprofit.
The 3-course series will start with the basics of setting up a profile through joining groups and discussions to using apps for podcasts and presentations. Students can sign up for one or all of the Vcourses, according to their level of expertise.
"LinkedIn is an under-utilized powerhouse that can rev up outreach for businesses and nonprofits. We'll show how to get a real impact from this tool," says Geri Stengel, founder of Ventureneer.
The three virtual courses are designed to target entrepreneurs and nonprofit leaders where they're at: just starting out with LinkedIn; a bit knowledgeable but unsure how to become active; or experienced and ready to expand into apps for multi-media marketing presentations, and portfolio display.
Each class costs $79. Sign up for all three for $200.
Entrepreneurs and nonprofit leaders can choose where they need to start and move on from there. The focus of the series is practical tools that can be implemented immediately, without techno-babble.
All three classes will be taught by [Marc Halpert, a LinkedIn expert, an entrepreneur recognized for his client service, and a well-regarded teacher.
The first Vcourse, LinkedIn for Beginners will be offered Thursday, June 9, from 2-3:30 pm ET. It will focus on drawing people to an individual or organization using LinkedIn. Participants will leave the class with the ability to craft a compelling profile that highlights their best aspects.
While learning how to write a profile, participants will also begin to see LinkedIn's value as a research tool, it's secret talent.
The Vcourse will help solo-preneurs, small business owners, and nonprofit executives. The techniques taught are of use to anyone who needs an attention-getting online presence. The following classes will teach the value and use of groups and discussions, and how to use LinkedIn apps.
For more information or to register, go to LinkedIn for Beginners.
About Ventureneer
Ventureneer connects values-driven small business owners, social entrepreneurs, and nonprofit leaders with the knowledge they need to make the world a better place and to thrive as businesses. At Ventureneer, entrepreneurial and nonprofit training and advice are practical, accessible, and affordable. Ventureneer has a new approach to learningthat blends traditional, formal instruction with informal, peer learning. You can learn new skills, collaborate with peers, develop solutions to your real-world problems, get one-on-one help from experts, and access the information you need to make better decisions for your organizations.
###