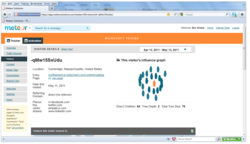 Now brands can not only measure how their content is being shared, who is sharing it, and what impact this sharing has on sales and branding, but also automatically target and re-target individual influencers
(PRWEB) May 24, 2011
Today, Meteor Solutions launched Meteor Advertise, a social ad targeting solution for online marketers. Meteor Advertise is a component of Meteor Solutions' industry-leading Social Audience Marketing Suite (SAMS), a powerful technology platform that enables brands to deliver targeted advertising to their social audiences across the web; activate influencers to share campaign content in return for special rewards; and measure and optimize campaign performance with best-of-breed analytics.
Key Facts about Meteor Advertise:

Meteor Advertise enables brands to identify in real-time the key influencers and social audiences who share brand content. People who share a brand's content – and the friends they share links with – are up to 4X more likely to convert than traditionally-targeted audiences.
Meteor Advertise enables marketers to automatically serve relevant display ads to consumers based on their social behavior and sharing patterns. Meteor Advertise is the first ad targeting platform that allows marketers to target and retarget social audiences based on the content and links they "share" – instead of traditional ad targeting solutions that use "clicks", demographic info, and cookies.
Early implementations of Meteor Advertise show social ad targeting results in dramatically reduced customer acquisition costs. Brands using Meteor Advertise have decreased customer acquisition costs by an average of 400x compared to traditional display advertising, and by 10X compared to than standard retargeted ads.
About Meteor's Social Audience Marketing Suite:

Already in use by some of the world's leading brands including AT & T, Microsoft, MTV Networks and others, Meteor's Social Audience Marketing Suite is powered by the patented Tag & TraceTM engine that tracks brand-related content as it is shared, identifying the influencers who share the most and the social audiences they influence.
Unlike social listening platforms that use general information like the number of followers or posts to infer brand influence, Tag & Trace actually captures the actions of individual users who share a brand's content.
Key components of Meteor's Social Media Audience Suite include: Meteor Activate, which increases campaign reach by identifying key influencers, then encouraging them to share in return for special rewards; Meteor Analytics, which provides reports that surface valuable insights into social audiences and sharing patterns to facilitate content optimization and media planning and; Meteor Advertise, which delivers targeted ads to social audiences as they travel the web.
Quotes:
"After years of working with the world's top brands to help them measure the true impact of their social media marketing programs, we're excited to announce Meteor Advertise as part of the SAMS platform. Now brands can not only measure how their content is being shared, who is sharing it, and what impact this sharing has on sales and branding, but also automatically target and re-target individual influencers with relevant advertising based on their social behavior," said Ben Straley, CEO of Meteor Solutions.
"Creating great social content for our brand – from posts, to blogs, to viral videos, and interactive campaigns and beyond – is just the first step in a social media marketing program today," said Nicole Schlappi at Microsoft. "With Meteor Advertise, now we're able to identify the people who are most active in sharing this content, then target them with relevant advertising as they travel around the web. What's more exciting is, we can reward them for sharing this campaign content with friends to further increase impact and provide a little thank you too."
Resources:
About Meteor Solutions Social Audience Management Suite
About Meteor Advertise
Follow Meteor Solutions on Twitter
About TechCrunch Disrupt:
TechCrunch Disrupt NYC 2011(http://disrupt.techcrunch.com) is TechCrunch's second annual conference in New York City attracting over 1,500 leading technology innovators and investors and over 150 new startups. The format combines top thought-leader discussions with new product and company launches. Morning executive discussions debate the most timely disruptions in media, advertising and technology. Afternoons host the Startup Battlefield where 25 new companies will launch for the first time on stage, selected to present from more than 500 applications received from around the world. Another 100 early-stage startups will exhibit in Startup Alley. TechCrunch will award a $50,000 grand prize along with other award recognitions at the conclusion of the conference. The conference is May 23-25, 2011, at Pier 94 located at 755 12th Avenue (at 55th Street & 12th) in Midtown New York.
TechCrunch (http://www.techcrunch.com) is a leading technology media network dedicated to obsessively profiling and reviewing new Internet products and companies. Founded by Michael Arrington in 2005, TechCrunch and its network of websites reach over 13 million unique visitors and more than 30 million page views per month. TechCrunch was acquired by AOL in 2011 and operates a global network of websites including dedicated properties in Europe and Japan, as well as specialized industry websites including MobileCrunch, CrunchGear, GreenTech, TechCrunchIT, and CrunchBase. TechCrunch's CrunchBase is the leading open database about startup companies, people, and investors. In addition to TechCrunch Disrupt, TechCrunch hosts other conferences and events, including the Crunchies Awards (http://crunchies2010.techcrunch.com) and various meet-ups worldwide, serving as community platforms for industry conversation and collaboration.
About Meteor Solutions:
Meteor's Social Audience Marketing Suite enables brands to identify and activate their own influencers and biggest fans in real-time. Meteor's technology platform is powered by the company's patent-pending Tag &Trace™ engine, which tracks content as it is passed-along and identifies the social audience that the shared content reaches. Using the Meteor Social Audience Marketing suite, brands can reach social audiences with relevant content and targeted advertising; activate influencers to share this content across their social graph in exchange for special rewards; and measure and optimize campaign performance with best-of-breed analytics. Meteor Solutions' customers include a growing number of the world's leading global brands and agencies including Microsoft, AT&T, MTV Networks, Wunderman, MEC, Hill Holiday, Razorfish and others. Meteor Solutions is a privately held company based in Seattle, Washington. For more information visit http://www.meteorsolutions.com.
###