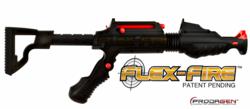 The ultimate test for a platform is how much fun you have playing it and the Flex-Fire completely changes that quotient.
Windsor, CO (PRWEB) May 25, 2011
Technology has created video gaming concepts that were little more than fantasy even five years ago. Unfortunately, the tools used to play those games haven't always kept up. Now, a new invention for PlayStation Move, has put the gamer back on a level playing field. Flex-Fire(TM), is a flexible barrel gun attachment that is revolutionizing motion sensor first person gaming.
Invented by Adam Wickam, a Colorado gamer and entrepreneur, the Flex-Fire is a rifle-shaped aiming system that improves the shooting experience by putting the gamer in direct control. With its flexible barrel, five-stage adjustable stock and 30 unique configurations, the Flex-Fire enables the shooter to aim without unnecessary, shot-ruining movements (patent pending).
"The Flex-Fire helps you appreciate the qualities of good FPS On The Move," said Wickam. "The ultimate test for a platform is how much fun you have playing it and the Flex-Fire completely changes that quotient."
Indeed, it took a sizable investment and a dozen prototypes to create the finished product, which will be on display at the upcoming E3 Electronics Expo at the Los Angeles Convention Center June 7-9. The end result is that gamers report a 19% winning edge by using the Flex-Fire.
Prior to the invention of the Flex-Fire, shooters had to use their back and hands to aim, creating a "stiff" user experience. Gaming rifles are notoriously difficult to master and require gamers to stand or sit up straight to play. Fluidity of movement is a casualty. The Flex-Fire enable shooters to move the crosshair wherever it's needed, just like moving your head in real life, bringing rhythm into play, just as it does in reality. The flexible barrel lets gamers play successfully from a variety of positions including reclined and prone for sniper style gameplay. The Flex-Fire is versatile enough so that those who want to switch to the more traditional style can change the slide lock to put the barrel in fixed mode.
"Games should replicate the real experience as closely as possible," Wickam said. "Troops in battle aren't clumsy and can turn their heads without turning their shoulders. Why should gamers have to point the whole gun off the screen just to turn the characters head in the game? If I've invested in a high-level game, I want the control and feel of an actual gun and a better chance of success."
To see the Flex-Fire in action, learn more about its features and read comments from those who have used this new aiming solution, visit Flex-Fire.com. Adam Wickam will be available for interviews at the E3 Electronics Expo at booth #2759, and can be contacted at 970-325-3539.
###