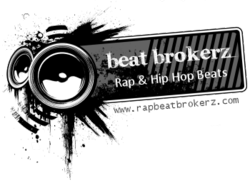 It made perfect sense to us when we sat down to draw up the business plan. Together we have an uncanny knowledge of how to market on the web, plus a good understanding of what struggles Hip Hop producers face when trying to make a living in this business.
Vacaville, CA (PRWEB) May 24, 2011
Beat Brokers Global LLC has announced the launch of "Beat Brokerz", a new online marketplace for Hip Hop music makers to sell instrumental music. The service is designed to give independent Hip Hop producers a way to expose their business online, without the burden of aquiring or maintaining complicated technology.
Beat Brokers Global LLC, operating under the trade name "Beat Brokerz", was formed by Jonathan Watkins and Kevin Carwile; two veterans of the business who together pioneered earlier milestone sites in the growing market for online Hip Hop beats. This newest project threatens to be the most exciting and monumental of them all.
As of today, here are a few of the more impressive luxuries that Hip Hop beat producers will enjoy from the Beat Brokerz service.
Beat Brokerz provides a unified marketplace in the likes of Amazon, where beat producers can bring their instrumental music to market in the context of their own ecommerce shop with secure payment and checkout.
Beat Brokerz handles the entire sales process of instrumental music (including licensing) for the producer; from cart to delivery. This also includes any follow up and technical support to the buyer.
Beat Brokerz actively distributes and promotes beats on many channels such as podcasting, mail list subscription, affiliate promotion, embedded players, partnered sites, social media integration and standard paid advertising. All to the benefit of producers that sell in their marketplace.
With a confidence and assurance in their track record, the two owners of Beat Brokerz have promised to continue providing innovative new services to the Hip Hop world while keeping Hip Hop beat makers on the cutting edge of technology. If you're tuned in to the growing market for independent music production, especially of the Hip Hop or Rap genre, this one is definitely worth taking note of.
Website Address: http://www.rapbeatbrokerz.com
###