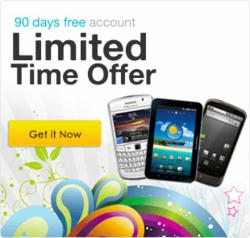 StealthGenie is an Android, Blackberry and other smartphones' application to help monitor mysterious activities of company employees, catch cheating spouse and offer parental control service to track a child's daily routine.
(PRWEB) May 26, 2011
StealthGenie brings forth an extravagant and feature-rich mobile spying application for monitoring one's spouse, children, or employees' cell phone activities conveniently. A massive number of people have already subscribed to the service owing to its useful features. Quite interestingly, StealthGenie is offering its customers with a 90 days free trial service, but it's a 'first come, first serve' service. For more details on the service, visit http://www.steathgenie.com.
People often face cheating spouse troubles. The symptoms include spending too much time on the phone or internet, hanging up the phone or going to the next room the minute someone joins them, keeping secrets, going out on odd days or making some excuses like attending a doctor's appointment etc. The possible explanation that hits a sane mind is that they might be cheating on their wife/husband. Confronting the situation directly or thinking of hiring a private agent to spy and monitor their activities is a berserk idea. StealthGenie application offers a smart way to approach the matter without being accused of spying.
StealthGenie is a user-friendly and helpful cell phone spy software For Android, Blackberry and Windows mobile smartphones that hardly takes a minute to install and ready to function. Simply, download it on the target's phone and follow the instructions. Once installed, it begins to run stealthily in the background, meanwhile the target remains oblivious and can continue using their phone without getting interrupted. It delivers records for calls, voicemail, SMS sent/and received, call log, videos and photos sent/received, locate the target's current location, have access to their emails (sent/received), appointments and calendar, contact list, and read messenger chats (Google Talk, MSN, Blackberry Messenger), record their surroundings and current location, and so much more delivered on the subscriber's phone or sent immediately to the secured online member maintained on account on the website (http://www.steathgenie.com). With the highly advanced geo fencing feature, subscriber can define target's boundaries. If he/she leaves that certain area, the subscriber is immediately notified by an instant alert. This is a feature which is new in the market and currently being offered to by StealthGenie only.
StealthGenie also offers employees monitoring service as well as parental control service. It offers the safest mechanism to keep a track on company employees and discover who might be stealing away valuable information and selling it away for financial gains, or using company's resources for pleasure instead of focusing on work. Every concerned parent wants to know that their child is safe and maintains a good company. Once StealthGenie is installed on their phones, it will keep the subscribers informed about their children's activities and whether or not they are involved in unlawful or prohibited commotion.
StealthGenie, with its wide set of viable features, is the ultimate mobile spy application to help you in multiple purposes and dig the hidden secrets and take immediate action.
About 70% people use Android, Blackberry or other smartphone sets for their everyday usage. With StealthGenie being an application that supports smartphone platforms, spying has become all the easier and convenient, especially when it's 100% undetectable. With this highly advanced technology, StealthGenie helps in taking quick action against dishonest employees, cheating spouse and mutinous children. If, in case the phone gets stolen, the subscriber's information remains safe and also helps in tracking and catching the thief, since the application keeps running in the background even if the SIM is discarded. All the information and phonebook contacts are saved up on the online account maintained on the website.
StealthGenie can also be installed on parents or senior family members' phones and used for monitoring their activities, in one's absence. StealthGenie offers the safest way to monitor, as well as be used for personal benefits and stay informed and updated about loved ones and surroundings.
So, what is the wait? Sign up with StealthGenie to avail the multiple benefits and use the mobile spy software for 90 days absolutely FREE!
End troubles today by signing up with StealthGenie cell phone spy.
###