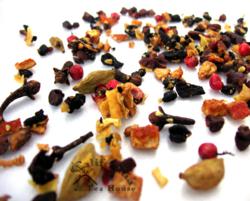 it's a spicy loose-leaf tea that begs for more than just one pour.
Los Angeles, CA (PRWEB) May 31, 2011
California Tea House recently announced the creation of something new—a chocolate tea. In the world of premium tea, many companies stand to sell the same—oolong, green tea, black tea, perhaps pu'erh and jasmine—with little distinguishing the companies, but a brand. Until now, a chocolate tea is daringly different.
Justly named Chocolate Chai, it's a spicy loose leaf tea that begs for more than just one pour. Its ingredient profile underscores this; USDA organic cocoa nibs and white chocolate pieces highlight the tea's rich, unexpected taste. Cardamom blooms, orange peels, chicory root pieces and fresh-cut ginger round out the smoothness of the brew. Together, creating an innovating twist on two classics, tea and chocolate.
A dessert of its own, the tea has a full-bodied flavor without a need for a sweetener. As one satisfied customer wrote, "I love this stuff! It's the best tea I've ever had. Tastes like thin liquid chocolate."
Yet for the diet-conscious, Chocolate Chai remains virtuously guilt-free and laden only with health benefits, unlike a cup of hot chocolate. And that's exactly how Ani Bailey, co-founder of California Tea House and creator of the tea, felt, and wanted to share.
"The idea for Chocolate Chai came about when I was having a piece of dark chocolate with a cup of tea one evening. As I tried the chocolate with the tea, the combination was so fulfilling that it dawned on me: why not make a chocolate tea? From there we hit the drawing board...," says Ms. Bailey.
Like any traditional cup of chai from India, the blend also upholds the much sought after benefits of Cardamom; an equally potent ingredient, which provides a strong aroma and flavor. Cardamom primarily acts as a digestive, but is also known to help heal throat health, congestion, Tuberculosis and even treat teeth and gum infections.
Minimally processed chocolate, such as the cocoa nibs found in the tea, have been shown to help maintain cardiovascular health—reduce blood pressure, enhance blood flow and reach healthy cholesterol levels. Moreover, according to Christine Dobmeier, a nutritionist from the University of Maryland Medical Center, just two tablespoons of cocoa has more antioxidants than four cups of green tea. The effect is a health food that challenges many notions of decadence.
According to Health magazine, "Tea drinkers can be as passionate and picky about their drink of choice as the most snobby oenophile is about her wine." Simply stated, there are more and more choices; California Tea House has accented this yet again.
At last, a new sidekick to chocolate that's even healthier than coffee, a delight for the tea connoisseur—California Tea House's Chocolate Chai.
California Tea House is a family owned and operated gourmet, loose-leaf tea store carrying the finest estate grown teas and custom tea blends all with free shipping. Find your new favorite tea at http://www.CaliforniaTeaHouse.com.
# # #