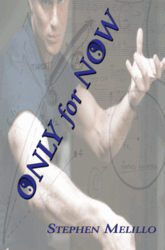 Smithfield, VA (PRWEB) May 25, 2011
The late teens are a complicated time for anyone. For 17-year-old Stephen Rinaldi, that is a galactic understatement. Only for Now (published by iUniverse), the new novel by Stephen Melillo, follows a troubled young man who seeks solace and self-discovery in the world of the martial arts, only to find something greater on the other side.
No sooner had Stephen Rinaldi graduated from high school, than his entire world fell apart. His longtime girlfriend, Cindy, not only dumped him but immediately took up with his best friend, Kurt. To make matters worse, Stephen's parents have filed for divorce. Now, shattered, confused and self-loathing, Stephen must find a way to try to put his young life back together.
Conflicted and desperately in need of direction, Stephen turns to the only thing in his life that gives him direction – martial arts. Told from the perspective of Stephen's friend Lenny Greenman, Only for Now is the story of a youth in search of order in a disorderly world.
Lenny first meets Stephen in the work-out cage at the university they both attend. Lenny is immediately taken with the immense skill and dedication that Stephen exhibits. While Lenny had fancied himself a fairly adept martial artist, he instantly recognizes that Stephen possess the innate skill that separates a practitioner from someone who can become a true master.
Only for Now follows Stephen through his first year of college, an interesting plot development immerges. Stephen inadvertently challenges a martial arts instructor named Yang. The unintended slight makes an enemy of not only Yang, but his 125 pupils as well. This antagonistic relationship drives Stephen to a place he never imagined he'd see; the world of competitive martial arts.
Yet, through his journey within this new world, Stephen experiences a birth by fire – a rite of passage that comes only after the most turbulent of storms – and in the process finds hope after hurt.
Within the ring, Stephen will discover that the greatest enemy anyone can face is themselves and that the bravest action anyone can take after heartbreak is to love again. This is a love story for all ages, young and old alike.
About the Author
Author and composer Stephen Melillo has written over 1000 pieces of music. Among his works are three symphonies and several concertos. Melillo won the 2009 Telly and Ava Awards for his 2005 Visualized Concert "That We Might Live". He was also nominated for the Pulitzer Prize in Music for that same work. His 14 feature film scores include the Academy-Award-nominated short 12:01PM and, most recently, "Dwegons", an animated children's feature. In addition to film work with European, New York and Los Angeles based studio orchestras, Melillo has enjoyed 116 concert premieres of his work. His "Last World Standing", a 33-minute long piece, received an 18-minute long standing ovation at the Brucknerhaus in Linz, Austria.
iUniverse, an Author Solutions, Inc. self-publishing provider, is the leading book marketing, editorial services, and supported self-publishing company. For more information, visit http://www.iuniverse.com.
###