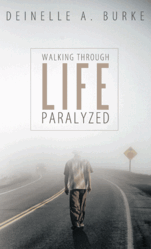 Pickering, Ontario (PRWEB) May 25, 2011
In his new book Walking Through Life Paralyzed (published by AuthorHouse), poet Deinelle A. Burke expresses his concerns about losing control due to the implications of society.
"When we're unable to walk, we seem to rely on others to help us," says Burke. "Walking Through Life Paralyzed reminds us how easy it is to rely on others to keep us strong, but how much easier it is to stand up for ourselves and make a change."
Walking Through Life Paralyzed focuses on the connections between life and death, the indifferences of love and the fear that corrupts the societies in which people live. Burke writes:
There are moments, when I find myself wanting to just give up. But I never do. In these moments, when life is bitter, fearless and cruel, the best we can do is distorted. The messages that are arranged and presented by life are nothing but voices from a stranger telling us that we can't be and we shouldn't be who we want to be.
In Walking Through Life Paralyzed, Burke chronicles his life experiences and views in the way of poems. The goal of the book is to provide the reader with a realization that life is a little bit easier with the help and support of friends and family.
About the Author
Deinelle A. Burke began writing at a very young age. His stylistic and creative intellectualism allowed him to craft his ideas into the words in Walking Through Life Paralyzed. As a talented writer, he has been published in "Whispers on the Wind," which is an anthology of many poems. Though at a young age, Deinelle's voice flourishes with a mature and professional tone, allowing him to be understood by all ages. His vision is for his poetry to be read by all that hope to make a difference in their lives, and the lives of others.
AuthorHouse is the leading provider of self- publishing, marketing, and bookselling services for authors around the globe. For more information, visit http://www.authorhouse.com.
###