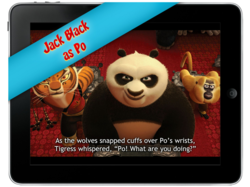 Be the first to get a sneak peek of Po!
Los Angeles, CA (PRWEB) May 24, 2011
zuuka, the world's largest publisher of mobile children's book applications, launched the Kung Fu Panda 2™ storybook for iPhone and iPad via its publishing label iStoryTime. Now in the iTunes® Top 10 books, the storybook is featured in "New & Noteworthy" by Apple® and is available for $2.99. The storybook is the only way parents and their children can get a sneak peek of images and hear original audio from the film before its debut on May 26, 2011.
Following the original plot of "Kung Fu Panda 2", the movie storybook also contains a bonus feature entitled "Create-A-Scene" which is a digital sticker book with your favorite characters from "Kung Fu Panda 2". This is the first time Create-A-Scene is available on the iPhone, increasing the amount of interactive entertainment provided by iStoryTime books.
Kung Fu Panda 2 follows Po as he lives his dream as the Dragon Warrior protecting the Valley of Peace alongside his friends and fellow kung fu masters, the Furious Five – Tigress, Crane, Mantis, Viper and Monkey. But Po's new life of awesomeness is threatened by the emergence of a formidable villain who plans to use a secret, unstoppable weapon to conquer China and destroy kung fu.
"We're very excited to bring fans original movie images and audio from the film before the movie debuts," said Woody Sears, co-Founder of zuuka. "Adding such a fun and family-friendly title reinforces our commitment of providing quality storybooks to our quickly expanding library of premier children's digital entertainment."
iStoryTime brings the joy of a kids' book to the convenience of the iPhone, iPad and iPod® touch. iStoryTime books are illustrated and narrated, so children can enjoy the book even when parents are busy. Best of all, the apps are simple to use because they are designed for kids two-years and up. Pages can be turned automatically or manually depending on the age and preference of the user.
iStoryTime is the perfect way for parents to entertain their children while waiting to go to dinner at a restaurant, on a long airplane or train trip or even when they need a few more minutes to finish grocery shopping. And of course, it's a great way to enjoy a story before bedtime. iStoryTime provides great books to entertain and educated the kids on the go.
###