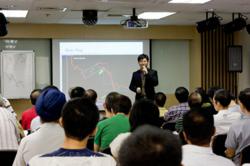 (PRWEB) May 24, 2011
In March 2011, Phillip CFD conducted a joint seminar with ShareWheel on the basics of technical analysis. Due to popular demand and to bring our clients to the next level, an intermediate technical analysis course was conducted on 16th April 2011 with Mr Julius Peh as the main speaker. This intermediate course focused on identifying common chart patterns such as bull/ bear flags, ascending/ descending triangles, wedges, head and shoulders and double tops. To add, Phillip Securities' Strategist, Mr Joshua Tan, was invited to speak on the global macro outlook so as to provide a holistic approach to one's investment strategy.
Tan was of the view that the US economy is currently experiencing a bullish recovery based on economic data and charts and he also shared that most analysts are upgrading their estimates on the S&P 500. This bodes well for the Singapore equity market since it tends to mirror the US market.
China's increasing rate of inflation is something to watch out for, even with year-on-year growth of about 15 to 20% and dips since February. Tan feels that three more rate hikes are necessary to truly bring inflation down because the non-food Consumer Price Index (CPI) is still high and looks as if it is increasing relatively.
In Singapore, the tightening of the Singapore dollar is proving to be good for the Straits Times Index (STI) and it may be entering a phase of modest EPS (earnings per share) growth with P/E (price per earning) bottoming out with the target of 3,650 by the fourth quarter. As with all trades, there are risks and Tan mentioned that current risks are mainly on the European debt issue and the trending oil prices. Tan allayed any fears about the Japan situation by explaining that the current situation is under control and Singapore should not be affected much since Singapore is not widely exposed to the Japanese economy.
After Tan's presentation, Peh started with a quick recap of what candle patterns are, what is a trend and that one should look at charts with day candle over a year. Peh also advised on the importance of having stop losses and following through with one's trading plan. The concept of trailing stop losses was introduced to the audience, where one should move the stop loss to the entry point when the chart moves to a new lower low (if shorting) or higher high (if long) in order to protect one's profits. Clients would be glad to know that Phillip CFD's CFDTrader caters to such advanced order types and is free for all Phillip CFD clients to download.
With Peh's signature interactive style, he first taught the audience how to identify Flags, Triangles, Wedges and Head & Shoulders with simple line drawings followed by quizzing them with actual charts from CFDTrader. As such, the audience not only learnt how the patterns look like, they were able to apply their knowledge immediately.
Besides knowing how to identify the chart patterns, it is just as important to know where to set up one's entry point, stop loss and target profit and Peh explained that different patterns have different sets of 'rules'. Nonetheless, false breakouts do happen and the best indicator to filter this out is volume. One should only enter a trade if a pattern coincides with a large increase in volume as this ensures that there is enough momentum for the breakout to follow through.
Peh reiterated that one should always look at the larger chart picture instead of panicking the minute the chart goes slightly against one's position. The right psychology while investing or trading is essential as the macro picture is usually more important than watching the charts daily and letting your emotions run wild. Peh shared how he lost money during the first six months when he started trading. Showing the chart of a losing trade that he did, Peh explained how he kept hitting his stop losses although the ascending triangle pattern was obvious and the volume levels also supported his technical analysis. However, he never gave up and continuously readjusted the support-resistance lines and re-entered with a winning trade. Technical analysis does not mean that every trade one does is a winning trade but with practice, one would be able to see the patterns clearer and then therefore make better trades.
The final topic was on risk management which is very pertinent to CFD trading since it is a leveraged product. ShareWheel has a free online money management tool where investors can use to easily calculate capital allocation, level of risk when putting in additional orders and one's remaining equity. Although Phillip CFD gives up to ten times leverage on certain counters, Peh advised that it is best not to use more than up to three times leverage as one must be fully prepared to lose the full contractual value whenever one enters any trade. Another factor in risk and money management is to remember to keep half of one's overall profits while reinvesting the other half in new trades, rather than reinvesting all the profits.
If you have any query regarding your technical analysis, ShareWheel has created a group named 'Phillip Securities' in their forum for all participants of both courses to post and discuss. Do note that Phillip CFD will be conducting the second part of the intermediate course on 25th June with more details to be made available closer to date.
Media Contacts:
For PhillipCapital
Freddie H. Lacorte
Marketing Communications
Tel: +65 6531 1560
Melissa Fann
CFD Department
Tel: +65 5631 1234
Email: melissafannhj(at)phillip(dot)com(dot)sg
# # #