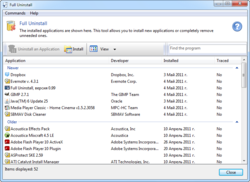 (PRWEB) May 25, 2011
Chemtable Software Company has released a new utility, Full Uninstall, that allows installing and then completely uninstalling programs from the operating system.
Various programs leave much different information within the operating system during their work, and that information often stays in the system even after programs have been uninstalled. With time the system becomes overgrown with that informational garbage that even the most advanced system cleanup utilities cannot delete. This not only overloads the system with unnecessary rubbish, but also affects its stability and performance.
Installing programs with Full Uninstall you can be sure that there will be no traces left after you uninstall them. Specially designed Full Uninstall's mechanisms carefully trak all changes made by a particular program during the setup process, so when you uninstall unnecessary applications those traces will be removed as well.
A special agent program automatically detects installer execution, and Full Uninstall immediately offers its service to provide a total control over the process. In the future this will allow to completely remove the program being installed now, including all "artifacts" left by it in the system.
In its design Full Uninstall is very similar to the list of installed applications. To uninstall a particular program you simply select it in the list and click the "Uninstall the Application" button.
The price for the program is $29.95. A variety of supported payment methods allow to purchase a license of Full Uninstall without any difficulties.
The free evaluation version of the program is available for downloading at this link:
http://www.chemtable.com/full-uninstall.htm
###