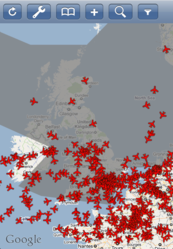 we are proud to have achieved inclusion of the Grimsvotn ash cloud maps in Plane Finder apps in less than 24 hours
UK, Hampshire (PRWEB UK) 24 May 2011
Plane Finder live flight tracking apps have been updated overnight to show the Grimsvotn ash cloud maps and live flight tracking data on the same google map. Users can now see the effects of the ash cloud on flights in real time via their mobile device.
Plane Finder apps have been a firm favourite with customers around the globe since 2009 and provided key visual information via mobile devices throughout the 2010 Eyjafjallajökull airspace disruptions. Since 2009 the private virtual radar receiver network has grown significantly – particularly in the USA and Europe - and most parts of the globe are now covered.
Small development company Pinkfroot Limited are committed to customer service and have worked closely with Apple to achieve this swift update to the Plane Finder apps. Technical Director Lee Armstrong says "customers are important to us and we recognised the need to include the ash cloud charts in the mobile apps as a matter of urgency. We are proud to have achieved this in less than 24 hours with assistance from Apple"
Plane Finder and Plane Finder HD are available in the Apple App Store. Plane Finder data, including ash cloud, can also be viewed via http://www.planefinder.net.
###