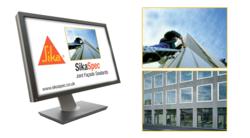 With air tightness of buildings essential, especially following the recent changes to Part L of the Building Regulations, correct specification of a building sealant is imperative.
(PRWEB UK) 26 May 2011
Global building products manufacturer, Sika, has launched an innovative online specification tool designed to aid architects and contractors with the correct selection of a facade joint sealant solution. Easy to use, the system provides a comprehensive output specification document that can be simply incorporated into contract documents.
With air tightness of buildings essential, especially following the recent changes to Part L of the Building Regulations, which has stipulated a 25% reduction in CO2 emissions from new buildings, the correct specification of a building sealant is imperative. SikaSpec, the result of considerable research and development along with investment from Sika, aims to provide a single source of information to provide users with a simple way of creating a specification, tailored to the exact requirements of their project.
SikaSpec, which can be found at http://www.sikaspec.co.uk, comprises a comprehensive database that allows the user to choose from a series of options. This includes the designed movement joint, the type of building – new build or refurbishment, the number of storeys and geographic considerations such as whether the building is north, south, east or west facing. Following this the user selects the type of joint to be sealed, specifies the specific joint type, the colour or shade of sealant required and the maximum cyclic movement of joint.
From here, SikaSpec generates a comprehensive written specification and NBS format, with standard details available. This can then be simply inserted into a project specification document. Specifications are also saved in password protected user accounts, enabling easy future access and the ability for users to create a portfolio of preferred sealant specifications.
The correct specification of joint sealants is critical. Featured on every building, joint sealants can represent a fraction of 1% of a typical build cost and the cost of the sealant, regardless of whether it is the high performance or standard sealant, along with the cost of installation has little impact on a project build cost. However with poor specification or lack of attention to the correct choice of product, the consequences can be disastrous. Ramifications if things go wrong can include water ingress, air leakage, staining of expensive natural stone facades or rainscreen cladding plus the associated cost with putting this right. SikaSpec therefore aims to provide specifiers and contractors with a simple way of ensuring the correct selection of product.
Sika's range of sealants is designed to work with a variety of substrates. This includes masonry such as concrete, natural stone, brick and cement based boards and non masonry materials including coated metal, anodised aluminium, untreated aluminium, UPVC and timber. With the creation of SikaSpec, Sika has taken all of these materials into consideration and provides the user with an intelligent method of factoring in criteria such as geographical location (essential to determine potential climatic conditions the sealant will need to withstand) and type of joint.
"SikaSpec has been designed to provide the user with a single point of reference for the easy and correct specification of construction sealants," commented David Fraser, Sealing and Bonding Manager at Sika. "Its step by step process ensures each specification is tailored to the precise requirements of the project and its username and password protected access enables the creation of online profiles where specifications can be stored, helping to minimise time spent in the future creating specification."
Providing users with considerable time savings, SikaSpec is supported with ongoing development to ensure it meets any changes in building regulations and legislation. It is also updated with product changes, development and additions to maintain its position as the most comprehensive online joint sealant specification system that is currently available.
For further information on SikaSpec visit http://www.sikaspec.co.uk or for further information on Sika's range of products visit http://www.sikaconstruction.co.uk. For general enquiries including technical, on or off site support, please call 0800 1123863.
For further information, please contact David Ing at CFA on:
Telephone: 01622 754295
Mobile: 07802 409484
Email: david.ing(at)cfa-group(dot)com
Notes to Editors:
Sika Limited is a wholly owned subsidiary of Sika AG, a global company based in Switzerland specialising in the manufacture and supply of chemical based products for construction and industry. A world-leader in its field Sika has subsidiaries in more than 70 countries, generates annual sales of CHF 4.6 billion and is committed to providing quality, service, safety and environmental care.
In Great Britain, Sika Ltd provides market-leading solutions for flooring, sealing and bonding applications, waterproofing, roofing, structural sealing and strengthening and many other construction applications.
Sika Limited's head office is based in Welwyn Garden City at Watchmead, Welwyn Garden City, Hertfordshire, AL7 1BQ. Call 01707 363866, e-mail technical(at)uk(dot)sika.com, or visit http://www.sika.co.uk.
Further press information about Sika and Sarnafil Limited, including an extensive image gallery, can be found at the Sika Media Centre – http://www.sikamarketing.co.uk.
# # #