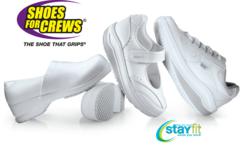 Our goal is to reduce slip and fall accidents and contribute to the overall well-being and performance within the Healthcare Community
West Palm Beach, FL (PRWEB) May 27, 2011
Shoes for Crews, LLC, the global leader in slip-resistant footwear, has announced plans to launch a series of new initiatives to help reduce slip and fall injuries within the Healthcare Community.
To this end, SFC will be leveraging all of their sales channels, including their Website, Direct Mail and an expanded Sales Team of experts dedicated to serving the interests of this growing industry.
A new Healthcare Catalog will also be launched at the end of the month, showcasing their deep assortment of styles, each designed to fit the needs of the many job functions within this industry. All will be outfitted with their top-rated, slip-resistant outsole.
Their goal is to not only to educate the reader on the real dangers associated with slip and falls within Hospital and Assisted Living environments, but how their specialty line of footwear actually "outgrips" other brands, proven via Independent Lab Testing (which they're happy to share with the public). As a result, SFC has been highly successful in reducing corporate liability, while keeping employees out of their own hospital beds.
"Our goal is to reduce slip and fall accidents and contribute to the overall well-being and performance within the Healthcare Community," said Matthew Smith, CEO of Shoes For Crews, LLC.
About Shoes For Crews
Established in 1984, Shoes For Crews has served the needs of the Healthcare Community with their top-rated, patented slip-resistance for over 25 years. Their Safety Program comes at No Cost to the Employer, and every pair is delivered with guaranteed comfort and durability –backed by a best-in-class 60 Day "Wear and Compare" Guarantee and Free Exchange policy.
To learn more about Shoes for Crews slip-resistant footwear, please call 1-877-No-Slips (1-877-667-5477) or visit their website at http://www.shoesforcrews.com.
###