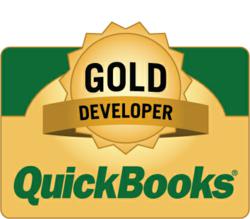 The real currency of any business is customer satisfaction
Furlong, PA (PRWEB) May 26, 2011
VictualNet, the order entry, inventory and invoicing solution for food businesses using QuickBooks, has been awarded Intuit's Gold Developer Certification for achieving exemplary scores on an extensive customer survey conducted by an independent third-party.
"The real currency of any business is customer satisfaction, and we're proud that our customers feel we provide them with support and services worthy of gold." says Paul H-C president of Integrated Management Solutions, the developers of VictualNet. Paul is referring to the much coveted QuickBooks Gold Developer Certification that VictualNet earned for its order entry, inventory and invoicing software for food distributors and processors. "This is a huge milestone, it represents confirmation that the Software as a Service revenue motivation model we offer for food business owners to improve their business profitability is working and working well."
Gold Level Certification can only be earned by solutions that have undergone a rigorous QuickBooks Technical Review, received high marks on an Extensive Customer Satisfaction Survey, and completed an in depth Customer Case Study. "Having our performance reviewed by independent third parties provides important insight into what our customers think about our service without allowing our personal biases to get in the way." Paul commented, "We constantly look for feedback from our customers and publish it on our website, but this was a chance to hear what customers feel about our service without us confronting them directly. Sometimes customers won't say what they're really feeling to your face."
Turns out their real feelings were positive ones. VictualNet scored high, earning an 8.6 overall rating on a grueling 10 point scale locking in the gold certification. "We were blown away by the overwhelmingly positive responses." reported Paul. "VictualNet represents such a huge step forward in technology that we anticipated users would report more challenges, but our customers reported high Ease Of Use scores. Even more exciting was the 'Customer Willingness to Recommend' for that segment of the survey; VictualNet scored 9.3 out of 10. That right there, that's gold."
Integrated Management Solutions has been providing order entry, invoicing, and inventory management solutions for food distributors and processors for more than twenty years. Information on the VictualNet web based software can be found at http://www.VictualNet.com
###