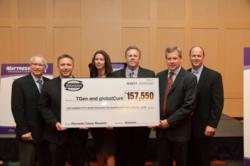 Discoveries directly follow funding and pancreatic cancer receives little in comparison to the percentage of lives it takes
Houston, TX (PRWEB) May 25, 2011
On May 12th, Mattress Firm hosted a presentation and donation event kicking off their national support of pancreatic cancer research and awareness. In partnership with Simmons Bedding Co., Mattress Firm President and CEO, Steve Stagner, presented a check for $157,550 to Dr. Daniel Von Hoff of TGen and globalCure, in honor of Houston's own Marvin Zindler, who passed away from pancreatic cancer in July 2007.
For eleven days in April, Mattress Firm partnered with Simmons Bedding Co., makers of Beautyrest mattresses, in a promotion that donated $50 to globalCure for every Simmons Beautyrest dual floor sample sold nationwide at nearly 700 Mattress Firm stores. The promotion was a huge success resulting in the $157,550 check presentation.
"To be able to raise the amount of money we did in less than two weeks is inspiring," said Stagner. "This is a cause that has affected several of our employees and that passion to make a difference really shines in our culture."
The event was held at the University of Houston Hilton and featured Jai Pausch and Dr. Daniel Von Hoff as keynote speakers. Jai Pausch, wife of Randy Pausch who authored the best-seller The Last Lecture, shared a raw and personal look into how pancreatic cancer affected her family and why the disease desperately needs funding and awareness. Pausch, a national advisory committee member of globalCure, praised Stagner and the Houston-based mattress retailer.
"As an advocate who understands how devastating pancreatic cancer can be for patients and their families, I applaud Mattress Firm's commitment to globalCure, and their effort to bring much needed resources and attention to our fight," said Pausch.
Pausch's moving presentation was followed by Dr. Daniel Von Hoff, TGen's Physician-In-Chief and one of the world's leading authorities on pancreatic cancer. Dr. Von Hoff emphasized that early detection of pancreatic cancer is non-existent, the survival rate remains low, and federal funding is a trickle for a river of need.
"Discoveries directly follow funding and pancreatic cancer receives little in comparison to the percentage of lives it takes," said Dr. Von Hoff, who leads the team of 46 physicians from around the world who form the backbone of globalCure. "Having the commitment of Mattress Firm will elevate globalCure's efforts, and the monies raised will allow us to aggressively pursue the underlying genetic causes of the disease and drive an unprecedented number of new therapeutic approaches to patient care."
The event concluded with the check presentation to Dr. Von Hoff and a surprise additional donation of $30,000 announced by Steve Stagner. Others recognized on stage during the check presentation included Dan Zindler, son of the late Marvin Zindler; Ed Brandon, dear friend of Marvin Zindler and former Channel 13 meteorologist; Jai Pausch; Roger Magowitz, founder of Seena Magowitz Foundation; Derek Miller, Director of National Accounts, Simmons Bedding Co.;, and Brad Bailey, Senior VP of National Accounts, Simmons Bedding Co..
"My dad would be absolutely thrilled that Mattress Firm is taking on this cause," said Dan Zindler. "It's something that needs to be supported and what Dr. Von Hoff is doing will make great strides for patients with pancreatic cancer."
That evening, Steve Stagner hosted a private dinner at Tony's with Dr. Von Hoff, Jai Pausch, and leaders in the Houston community. During dinner, guests shared in intimate conversation and stories that moved some to tears. Eliciting this response is exactly what Stagner was hoping for. "Awareness is the key to progress and that's why we invited each of you here tonight," said Stagner at the start of the evening.
Stagner said he hopes that Mattress Firm's support will multiply through globalCure and do for pancreatic cancer research and discovery what the Susan G. Komen foundation has done for the fight against breast cancer.
"We have the opportunity to educate our customers about our efforts beyond the sales floor. We have the opportunity to get involved and engaged with our communities, and impact the lives of over 43,000 Americans that are diagnosed with pancreatic cancer each year," said Stagner.
Pancreatic cancer is the nation's fourth leading cause of cancer death, and is the only one of the 10 most deadly cancers with a survival rate in the single digits. Nearly 75 percent of the estimated 43,000 Americans diagnosed annually die within the first year. Only 6 percent survive longer than five years. In addition, less than 2 percent of the National Cancer Institute's federal research funding is dedicated to pancreatic cancer research.
Donations to globalCure enable the international team of physicians to move quickly on promising, new clinical therapies. Specifically, the funds enable globalCure scientists and clinicians to: identify diagnostic biomarkers as drug targets; identify and improve new agents that affect the activity of those targets; and evaluate new agents and take the most promising ones to clinical trials for patients in advanced stages of pancreatic cancer. Donations can be made at http://www.mattressfirm.com or http://www.tgenfoundation.org
About Mattress Firm
Houston-based Mattress Firm (http://www.mattressfirm.com) is one of the nation's premier specialty bedding retailers, offering a broad selection of both traditional and specialty mattresses from leading manufacturers, including Tempur-Pedic, Sealy, Simmons, and Stearns & Foster. Founded in 1986, Mattress Firm's purpose is to improve lives one night at a time. With more than 700 stores across 24 states, Mattress Firm offers consumers the benefit of highly trained, knowledgeable sales professionals, a broad product offering, and competitive prices in an attractive and comfortable store environment.
About TGen
The Translational Genomics Research Institute (TGen) is a Phoenix, Arizona-based non-profit organization dedicated to conducting groundbreaking research with life changing results. Research at TGen is focused on helping patients with diseases such as cancer, neurological disorders and diabetes. TGen is on the cutting edge of translational research where investigators are able to unravel the genetic components of common and complex diseases. Working with collaborators in the scientific and medical communities, TGen believes it can make a substantial contribution to the efficiency and effectiveness of the translational process. TGen is affiliated with the Van Andel Research Institute in Grand Rapids, Michigan. For more information, visit: http://www.tgen.org.
About globalCure
globalCure is a coordinated effort to cure pancreatic cancer involving doctors and scientists at 46 top-flight medical research institutions around the world. For more information, visit http://www.gcure.org.
Cole Mark
Mattress Firm Communications Specialist
713.343.3606
cole(dot)mark(at)mattressfirm(dot)com
###