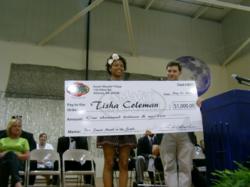 It's been a long-time dream of mine to one day be able to help kids go to college just for being a good kid.
Atlanta, Georgia (PRWEB) May 24, 2011
The founder of Smart Mouth Pizza delivered a welcome surprise to a high school senior at Americus-Sumter High School in South Georgia, when he opened the school's honors day assembly by announcing that she had been selected as the Best School Smart Mouth for her involvement in promoting in social media and in school activities, the company's fresh-made, more nutritious school lunch pizza.
"There's a young lady sitting here, who by now is figuring out why I am here," said Tom Willingham, the Founder and CEO of Bulls Eye Brands, the company that offers the Smart Mouth Pizza program to schools across the southern United States, from Texas to Florida and to Georgia and South Carolina. "It's been a long-time dream of mine to one day be able to help kids go to college just for being a good kid."
Tisha Coleman, is a graduating senior, who was among nearly two dozen finalists from schools that participate in the Smart Mouth Pizza program to complete for the scholarship through student leadership and involvement in increasing student lunch participation by promoting the benefits of the healthier alternative lunch choice. She was awarded a $1000 cash scholarship, a trophy and also offered the opportunity for a summer job with the company.
"I was real surprised, I still am," said Coleman just moments after receiving the award. "I made my Smart Mouth video with a couple of my friends and then I started telling everybody to watch it. I also got my school involved, and my school really does like the pizza and I appreciate it."
Coleman plans to attend the University of Mississippi and eventually become a Lawyer. Americus-Sumter High is in one of the rural Georgia counties, where eating a nutritious meal at school is so critical to the health and well-being of young adults.
"Our meal participation rates are way up," said Sumter County Nutrition Director, Gloria Thorn, who also attended the surprise presentation. "We love Smart Mouth, but best of all the students love it."
The company launched both the student scholarship-brand ambassador program and a separate student social media video competition in the 2010-2011school year, and plans to expand it into more schools to engage more students in the coming school year as more schools in additional states come on line with the Smart Mouth program.
Smart Mouth Pizza's innovative program makes it easy for the pizza to be made fresh and served hot by lunchroom staff with ingredients that exceed school nutrition requirements. The company continues to evolve its recipes to reduced sodium levels, and to increase the percentage of whole grains that along with meat and vegetable toppings help schools to comply with changing school nutrition mandates.
The Smart Mouth program includes all of the equipment, training and exclusive recipes and ingredients along with the innovative marketing and student involvement activities that create excitement and drive school lunch participation rates up in the schools where it is served.
###