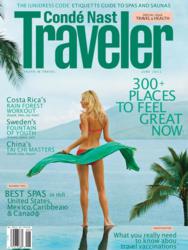 Lake Placid, NY (PRWEB) May 24, 2011
The Mirror Lake Inn Resort and Spa has been selected as a Top 100 Resort Spa in the US and one of the "Top 250 Spas" in North America by Conde Nast Traveler readers.
The Mirror Lake Inn is one of only two resorts in New York State to make the list. The results of the 2011 Spa Poll appear in the June issue of Conde Nast Traveler.
In its twenty-first year, the 2011 survey results are derived from the magazine's 2010 Readers' Choice Survey. A questionnaire was available to all readers through a secure website. Nearly 26,000 people participated, rating spas excellent, very good, good, fair, or poor on spa facilities, spa staff, and spa treatments. The full list of winners can be viewed on Conde Nast Traveler's website at http://www.concierge.com.
The Mirror Lake Inn continues to acquire a reputation of excellence with accolades from leading hospitality organizations. In January, the inn was selected as one of the "World's Best Hotels" in the Travel + Leisure 500. In November the inn was chosen by Conde Nast Traveler as one of the "Top 50 Ski Hotels in North America" and as one of the "Top 100 Large Resorts in the Mainland, U.S." in the annual Best in the World Readers' Choice Awards.
About the Mirror Lake Inn Resort and Spa
The Mirror Lake Inn Resort and Spa is a luxury lakefront resort in the Adirondack Mountains. It enlivens the senses, providing an extraordinary, personalized experience for the body, mind and palate. The inn offers the finest world-class cuisine as well as casual dining options with impeccable service amidst awe-inspiring views. The full-service spa pampers the body and refreshes the mind with a comprehensive menu of services. The inn is surrounded by opportunities for outdoor adventure and is only a short walk to Main Street in Lake Placid.
For more information about the Mirror Lake Inn Resort and Spa, please visit their website at http://www.mirrorlakeinn.com
###