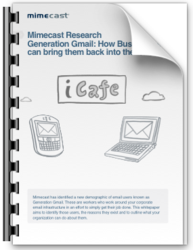 More than a third (36%) of incoming email to work inboxes is NOT work related
(PRWEB UK) 26 May 2011
Results reveal that businesses are being compromised by an emerging 'Generation Gmail' of corporate email users. A new group of social media savvy employees display a particular frustration with corporate email restrictions, complaining that mailbox sizes are too constrained because of email archiving needs and that they will readily "work around" using personal email to be as productive and flexible as possible. The results focus on rogue emailing and how the associated information security risk is exacerbated by the over-zealous approach of some employers to controlling email usage.
The study found that education has a big role to play and that IT departments are failing to embrace the email management needs of the younger generations of employees for whom social media has affected the way they balance work and life together, and consequently the way they want to use corporate email to do their jobs in a productive and flexible way. However the research also suggests that education by itself will not be enough; the correct use of technology is also needed to ensure compliant email behaviour and reduce the need to 'work around' the limitations of corporate email.
According to the study:
79 per cent of people send work emails from their personal email accounts, with 1 in 5 saying they do this on a regular basis, creating email archiving issues for compliance
71 per cent of people recognise there is an additional security risk in sending work documents outside the corporate email environment, but 47 per cent think it is acceptable to send work emails and documents to personal email accounts
40 per cent of those asked say that if they had an unlimited mailbox at work, they would be less likely to send work emails to personal email accounts
More than a third (36%) of incoming email to work inboxes is NOT work related
Generation Gmail is particularly predisposed to personal email; 52 per cent rated it as better than work email in terms of mailbox size, compared to just 29 per cent of over 55s
The international study commissioned by Mimecast was entitled "Generation Gmail", which investigated how attitudes to work email use are evolving and how progressive employers are managing this core communication channel.
# # #