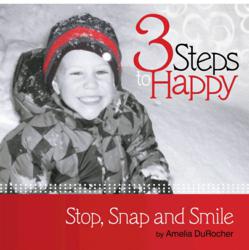 If I had known earlier what I know now, I can only imagine how different my life would be.
Denver, CO (PRWEB) May 25, 2011
Many people don't believe emotions are a matter of choice and many don't believe change can happen in an instant. But in her insightful new self-help book, 3 Steps to Happy: Stop, Snap and Smile, author Amelia DuRocher positions herself as a guide for teaching children how choosing and taking responsibility for their feelings leads to a happier life.
By basing the book on actual conversations she and her children have had with each other, DuRocher empowers children with the ability to choose emotions. In adult language, 3 Steps to Happy reminds parents that if you want to change your state of mind, just change your physiology and change your focus. In preschool language: Stop (see you are feeling badly); Snap (decide you want to feel good); then Smile.
Accompanied by bright colors and creative photography, DuRocher says 3 Steps to Happy is a reflection of: "If I had known earlier what I know now, I can only imagine how different my life would be."
Using her own personal advances and leadership training, DuRocher shares the concept used most while raising her own children. The author hopes parents will utilize her message and children will internalize it. With the belief that children are not just blank slates waiting to be filled with information, but have their own lessons of love, presence and acceptance to teach adults.
DuRocher has written a story for the entire family to cherish and discuss. 3 Steps to Happy is the first of a series to spread helpful life strategies to young children while they are still forming their beliefs about the world and their lives.
About the Author
Amelia DuRocher started her career as a journalist before going back to school for photography. She currently lives in Denver, Colorado, where she owns her own business, Intuitive Designs & Photography, Inc., a graphic design and photography business. She enjoys combining her primary focus, raising her two children, including a son that affectionately refers to her as "love girl," with her passions for photography and self-help awareness.
###