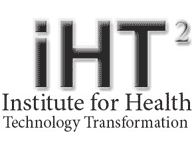 Ms. King maintains that cost savings is not enough to sustain the HIE, and that current incentives do not encourage reducing costs.
New York, NY (PRWEB) May 24, 2011
The Institute for Health Technology Transformation announces a webinar entitled "Sustainable Strategies in Health Information Exchange (HIE)" which will take place May 25, 2011 at 1:00pm EST.
The webinar will feature Janet King, Director of eHealth, Tennessee Hospital Association, and Executive Director, Middle Tennessee eHealth Connect. Janet will discuss sustainability strategies that Mid-South eHealth Alliance in Memphis is currently pursuing. She will discuss how the lessons learned in Memphis will benefit the Middle Tennessee eHealth Connect as they join the Memphis technology infrastructure to build their Middle Tennessee regional operational model.
In order to register for this complimentary webinar, please visit https://www2.gotomeeting.com/register/659044402
This client case study will include information on how to seek seed money grants, and working with government programs (Medicaid, uninsured/safety net), large payers and health systems as initial means for the sustainability of an HIE. Discussion will further focus on the implementation of functional tools to assist clinicians as they deliver care and goals to benefit payers and employers to help ensure sustainability.
John Tempesco, chief marketing officer, said, "Ms. King maintains that cost savings is not enough to sustain the HIE, and that current incentives do not encourage reducing costs. In fact, present financing and delivery models do not result in most payers rewarding providers for reducing costs, but may actually penalize them for doing so. Building on the success of Mid-South, Middle Tennessee has examined ways to become sustainable, anticipating that government incentives and other programs would either come to an end or simply not be sufficient to drive a successful HIE."
About the Middle Tennessee eHealth Connect (MTeHC)
The Middle Tennessee eHealth Connect is a not-for profit regional health information exchange organization whose mission is to improve the effectiveness and efficiency of health care delivered to every member of the community without regard to payer by connecting health care providers throughout Middle Tennessee http://www.mtehc.com
About Informatics Corporation of America (ICA):
Informatics Corporation of America (ICA) was established to take innovative technology developed by Vanderbilt Medical Center to the broader healthcare market, and now delivers a comprehensive HIE solution to hospitals, IDNs, communities and states. Unmatched in its ability to yield cost efficiency, improved patient care, and better outcomes, ICA's CareAlign™ solution captures complete data to enhance the decision-making process. The CareAlign™clinical intelligence engine empowers HIEs to leverage existing core systems and construct a longitudinal patient record. CareAlign™ also features provider/patient portals, secure clinical communication, NHIN compliant interoperability, EHR-lite and population management tools. Visit http://www.icainformatics.com; follow us on Twitter: http://www.Twitter.com; and Facebook: http://www.facebook.com
About the Institute for Health Technology Transformation:
The Institute for Health Technology Transformation is the leading organization committed to bringing together private and public sector leaders fostering the growth and effective use of technology across the healthcare industry. Through collaborative efforts the Institute provides programs that drive innovation, educate, and provide a critical understanding of how technology applications, solutions and devices can improve the quality, safety and efficiency of healthcare. http://www.ihealthtran.com
###