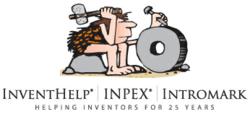 Pittsburgh, PA (PRWEB) May 27, 2011
InventHelp®, America's largest inventor service company, announces that one of its clients, an inventor from Florida, has designed a dual-use toothbrush that would also enable a user to floss. This invention is patented.
The "2-N-1 Toothbrush" would feature a spool of floss housed in a compartment inside the handle that would dispense floss through a small opening in the brush. This feature could remind the user to brush and floss regularly, which would encourage proper oral practices. The addition of the floss to the toothbrush could save time and effort expended on daily oral-care routines, and is ideal for travel or on-the-go use.
The 2-N-1 Toothbrush dental-care accessory would consist of a toothbrush with a built-in floss dispenser. The brush could be producible from plastic, comparable in size to an ordinary toothbrush. A spool of floss would be housed in a compartment located approximately in the center of a toothbrush. A user could dispense floss by pulling it through an opening at the bottom of the handle. The floss dispenser will feature small metal piece that will anchor and cut the floss. The floss can be replaced easily at any time. The 2-N-1 Toothbrush would also feature a tongue cleaner and a hygienic cover where the floss is dispensed. The invention can be producible with soft, medium and firm bristles in a variety of colors and in adult and children sizes.
InventHelp® is attempting to submit the invention to companies for review. If substantial interest is expressed, the company will attempt to negotiate for a sale or royalties for the inventor. Manufacturers interested in reviewing additional inventions and new product ideas can contact InventHelp's marketing partner Intromark by filling out an online request to review new product ideas here. For more information, telephone Dept. 09-HLW-567 at (800) 851-6030.
###