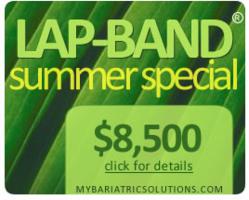 Use this summer vacation to step into a healthy life with this Lap-Band Surgery special offer.
Dallas, TX (PRWEB) May 31, 2011
Bariatric Solutions, located at Wise Regional Medical Center in Decatur, Texas, is currently offering a lower cost Lap-Band Surgery through August 31, 2011. The Food and Drug Administration (FDA) recently lowered the minimum Body Mass Index (BMI) restriction to 30-40 if the person has at least one obesity related comorbid condition allowing more individuals to take advantage of Lap-Band Surgery.
Dallas bariatric surgeons, Medical Director Dr. Scott Stowers and Dr. Dirk Rodriguez, are now performing the Lap-Band surgery for the special summer price of $8,500 and encourage those who are interested to use this summer vacation to step into a healthy life with this Lap-Band Surgery special offer. This price will be offered now through August 31, 2011, at Bariatric Solutions. Interested candidates are encouraged to visit mybariatricsolutions.com or call the Bariatric Solutions office at 940-249-9009 to learn more about the special summer offer.
At the beginning of 2011, the FDA approved the expanded use of the Lap-Band surgery for "adults with obesity who have failed more conservative weight reduction alternatives, such as diet and exercise and pharmacotherapy, and have a BMI of 30-40 and at least one obesity related comorbid condition." According to Allergan, a technology-driven multi-specialty health care company, there are currently about 37 million Americans who fit this criteria.
Get your questions answered at one of the nine upcoming free bariatric and weight loss surgery Summer Seminars in the Dallas / Fort Worth area, by Liking Bariatric Solutions' Facebook page, Facebook.com/bariatricsolutions or by following Twitter account, @wise_team.
Bariatric Solutions serves patients in the Dallas / Fort Worth and North Texas area with an Irving, Texas, location and helps patients from all around Texas and Oklahoma in their Decatur, Texas, location. Dr. Stowers and Dr. Rodriguez lead a team of multi-disciplinary professionals who specialize in the causes and complications of obesity, its treatment and related issues. Specialists on the Bariatric Solutions team include a bariatric nurse coordinator, registered dietitian, an exercise physiologist and multiple psychologists. Bariatric Solutions can also provide additional expertise in the areas of cardiology, pulmonary medicine (sleep apnea), and physical therapy. In addition to the Lap-Band surgery, Bariatric Solutions' highly-trained surgeons also specialize in Gastric Bypass surgery, the REALIZE Band, Gastric Sleeve Surgery, revisional surgery and the single incision approach. Support Group meetings are also held monthly for Bariatric Solutions patients to learn more about nutrition, fitness and life after weight-loss surgery. For more information on weight loss surgery, visit mybariatricsolutions.com. Bariatric Solutions' online marketing initiatives are managed by Atomic Design & Consulting (atomicdc.com) in Plano, Texas.
###