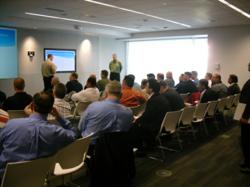 Mentor, OH (PRWEB) May 26, 2011
Over fifty participants attended a seminar in Grand Rapids MI, sponsored by Fabricators & Manufacturers Association International, and heard Roll-Kraft's Chuck Summerhill give a presentation on Roll Forming High Strength Steel – A Design Perspective.
Roll-Kraft was the exclusive industry sponsor of the event which took place on April 12 and 13, 2011.
Mr. Summerhill, Vice President of Roll-Kraft, will also be a featured speaker at Roll-Kraft's Roll Forming Training Seminar, to be held on July 28, 2011, in Mentor, OH. His presentation will cover Basic Roll Design, as well as Finite Element Analysis Software. He will be joined by Mr. Dave Rostocil, Director of Product Applications, who will present information in the areas of Roll Form Tooling Setup and Troubleshooting, and Robert A. Sladky, Vice President of Tube Mill Engineering, whose discussion will be on Mill Integrity and Alignment.
One day prior, on July 27, 2011, Roll-Kraft will host a Tube and Pipe Training Seminar. The featured speaker at this event will be Robert A. Sladky, who is a recipient of the TPA Industry Education Activities Award, acknowledging his outstanding work in the area of providing education to the tube and pipe industry. His main topic will be Tube Mill Integrity and Alignment. He will be joined by Mr. Bret Molnar, Roll Design Engineer, who will also speak on topics such as Roll Design and Copra FEA RE Software. Together they will also present information on Mill Setup and Tooling Maintenance Programs.
Both sessions will include a panel discussion where the presenters will be available to focus on these issues and help answer questions.
For more information or to register for either seminar, click below:
• Tube and Pipe Training Seminar, July 27
• Roll Forming Training Seminar, July 28
About Roll-Kraft
Roll-Kraft is a recognized leader in the tube & pipe and roll forming industry, supplying manufacturers with tooling to produce their specific products. The company has been in business since 1963 and offers custom-designed tube and pipe tooling and roll form tooling to meet a wide range of individual customer specifications.
Roll-Kraft has its headquarters in Mentor, Ohio, and maintains other facilities in Frankfort, Illinois (Roll-Kraft Northern), and Ontario, Canada. The company phone number is (888) 953-9400 or (440) 205-3100, and the fax number is (440) 205-3110. Please also visit the web site at http://www.roll-kraft.com. For easy and immediate contact with Roll-Kraft that transcends time zones and working hours, the website features Dr. Resolve. Simply complete and submit an on-line form and Roll-Kraft will respond.
# # #