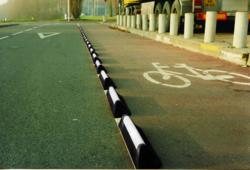 Traffic Logix CycleLane provides an innovative solution to separating bike lanes.
Spring Valley, NY (PRWEB) May 25, 2011
This month, Traffic Logix has launched CycleLane, a smart, safe solution that delineates vehicle and bicycle traffic. The unique design of the CycleLane units protects bicyclists and provides a clear physical separation between traffic lanes.
Separated bicycle lanes are used to define road space and to organize the flow of traffic. They have also been shown to make people more likely to bicycle and to make the road safer for both cyclists and drivers. Studies conducted by the Bureau of Transportation Statistics (http://www.bts.gov) have shown that the perception of safety is integral in encouraging people to cycle. Clearly delineated bike lanes provide bicyclists with security, which supports and encourages bicycling.
Increased cycling results in improved health as well as lower crash rates. A study presented by the Conservation Law Foundation that compared crash rates in several major cities found that each of the cities that showed higher bicycle use had lower crash rates than cities where bicycling was less common. Individual cities that conducted traffic studies found similar results. A study c of bicycle lanes in Davis, CA conducted by the Federal Highway Administration's Bicycle Safety Related Research Synthesis found a reduction in crashes by 31%. In Eugene, OR, the Federal Highway Administration study found that when bicycle lanes were added to a busy street, the crash rate for bicyclists was reduced by almost 50% while the motor vehicle crash rate was also significantly reduced.
Traffic Logix CycleLane provides an innovative solution to separating bike lanes. In addition to providing clear physical delineation, CycleLane provides a unique safety feature. The units have a unique sloped profile that keep cars in their lanes while protecting bicyclists. The side adjacent to traffic has a high profile so that if hit by vehicles they are veered back into their lane of traffic. The side of the unit parallel to the bike lane has a lower, curved profile, designed to divert bicyclists back toward the bicycle lane and ensure that they do not collide with traffic.
In addition to promoting safety, the CycleLane is environmentally conscious. Comprised of 100% recycled rubber collected from landfills across the United States, the eco-friendly product helps promote sustainable transportation by making bicycle routes safer and more accessible.
The CycleLane units are bolted directly into the road surface to keep them firmly in place. Highly reflective taping is embedded into each unit so that they are clearly visible, even in poor lighting conditions. The units are durable, maintenance-free, and quick and easy to install.
The launch of the CycleLane delineators reflects the Traffic Logix commitment to providing a full range of traffic safety solutions designed to protect pedestrians and drivers alike.
To learn more about CycleLane or to see other Traffic Logix rubber or radar traffic calming solutions, visit http://www.trafficlogix.com.
###