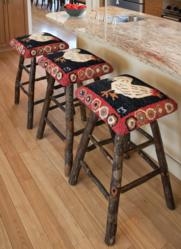 We sought out the Old Order Amish for our bench and stool bases because of the extremely high quality of workmanship. It perfectly suits our products
Manchester Center, VT (PRWEB) May 26, 2011
Woodworking skills handed down over generations in Old Order Amish workshops in Pennsylvania and Ohio combine with hand-hooking artistry half a world away to make a hugely popular line of accent furniture. The evidence of today's global marketplace is in clear view at Chandler 4 Corners, a Vermont-based importer and wholesaler of hand-hooked wool rugs, pillows and now, benches and stools set on Amish bases.
"We sought out the Old Order Amish for our bench and stool bases because of the extremely high quality of workmanship. It perfectly suits our products," says company president Henry Chandler adding, "The craftsmen designed a strong, balanced, rustic base of unpeeled hickory, which enhances the bucolic sensibility and sophisticated colorways from our designer, Laura Megroz. It's wonderful to combine the long tradition of textiles from India—where beautiful rugs have a long lineage—with Amish furniture-making, which also has a long and esteemed history."
Chandler 4 Corners sends the Megroz designs to their Delhi partner, with whom they have been working since 1995. There the designs are hand hooked out of pure New Zealand wool and shipped to Vermont. In the big red warehouse in southwestern Vermont these farflung elements come together – bases and tops – to be sent out to retail buyers around the US.
The accent furniture line of benches and stools is a recent addition to the Chandler 4 Corners list of products, but already they are proven winners. "Benches are selling strongly year round, and now we've added a second size of both benches and stools this year, doubling our styles because there is such a demand for them," says Chandler. "Our pine cones, fish and dog designs are our most popular lines. We hear that the pine cones are most frequently used at the ends of beds, while the others, with outdoor designs, are most often placed by doorways to assist with boot changing."
Chandler 4 Corners has been offering pillows, rugs and other household accents since 1995. Based in Manchester Center, VT, the company sells to retail shops and individuals across the country. Made of pure New Zealand wool, the C4C products are easy to care for, long lasting, and glow in natural colorways that suit any home décor. For more information, visit the website at chandler4corners.com.
###