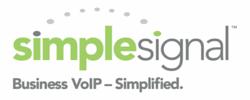 "The 4g wireless data pipe is emerging as the 'new last mile.' By leveraging this wireless connection, businesses are untethered from ethernet and can now seamlessly converge mobile devices with the fixed phones on their desks."
Dana Point, CA (PRWEB) May 25, 2011
SimpleSignal Inc., a leading hosted PBX and Unified Communications service provider for business, today announced its mobile integrated suite of Unified Communication and Collaboration (UC&C) services, known as SimplyMobile, is now optimized for smartphones and tablet devices over high speed 4G and LTE data networks. The upgraded service will be branded as SimplyMobileX4G.
"The 4G wireless data pipe is emerging as the "new last mile," said Dave Gilbert, CEO for SimpleSignal. "By leveraging this wireless connection, businesses are untethered from ethernet and can now seamlessly converge mobile devices with the fixed phones on their desks."
SimplyMobileX4G's mobile suite includes:

Call Center capabilities, including video calling
Instant Messaging and Presence, smartphone and tablet access to business contacts
from an integrated corporate directory, as well as mobile presence & location
indicators

Web collaboration capabilities, including: desktop sharing; the ability to initiate,
manage, control and participate in meetings from a smartphone or tablet; video-calling; and conferencing anytime, anywhere, from any mobile device
"The world of business communications is changing quickly," continued Gilbert. "We've moved from one-to-one voice communication to multiple ways to communicate from anywhere, using any device. Businesses are turning to us to unify those methods, make them secure and embrace the social nature of business communication. We call that Unified Communication and Collaboration (UC&C). Now it can all be taking place in a wireless environment."
SimpleSignal, known as an early innovator in the Unified Communications space, has leaped ahead of their competitors by optimizing their network to work seamlessly with the emerging LTE (long-term evolution) networks.
"Business people want the freedom to use whatever device they deem best to communicate at that moment in both their personal and business lives," said Michael Sterl, VP of SimpleSignal. "They also want the ability to use rich media like streaming video and video conferencing within their business communication solution whether they are at their desk or out and about. SimplyMobileX4G is the next major step in the evolution of fully-integrated mobile communications capabilities."
With SimplyMobileX4G fully integrated with SimpleSignal's hosted PBX and cloud- based UC&C platform (featuring HD voice audio conferencing, multi-point video conferencing, call recording and more), enterprises can leverage the most advanced communications technology available at any price, all for an affordable monthly fee per user, and easily scale up or down as business needs change.
"Customers pay only for what they use rather than enduring large software costs for unneeded capacity and servers they have to maintain and upgrade," said Gilbert. "This is the promise of the cloud. Own less, Do more."
Connect with SimpleSignal online:
Twitter: http://twitter.com/SimpleSignal
Facebook: http://www.facebook.com/SimpleSignal
YouTube: http://www.youtube.com/SimpleSignalInc
Blog: http://www.simplesignal.com/blog/
About SimpleSignal:
SimpleSignal is a hosted PBX and cloud-based Unified Communications and Collaboration network service provider. SimpleSignal provides IP phone applications and services to tens of thousands of satisfied business users throughout the US and Canada, with a growing list of multi-office clients in many International locations. SimpleSignal has created some of the most innovative and advanced voice "mashups" in the communications industry, leveraging voice technology for Facebook, LinkedIn, and Salesforce.com, among others. SimpleSignal has offices in Englewood, CO, and Dana Point, CA. Find us on the web at http://www.simplesignal.com. For sales, call 866-434-4404.
# # #